Around The Store With Stew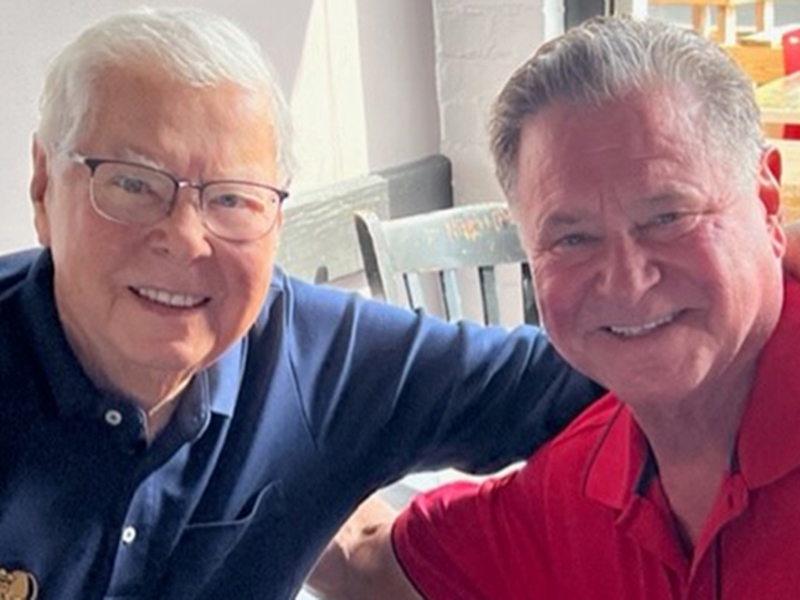 I wish I didn't have to write this, but…
Yesterday, my dad passed away at 93-1/2 years old while holding my mother's hand. They had been married for 70 years. I knew this day would come but I'm still trying to wrap my head around it. Just a month ago, he was swimming in a pool. Of course, I'm sad and hurting because I'll miss our daily phone calls. He always had an inspirational insight offering hope and a brighter future. Boy, am I going to miss that! He also journaled daily in his "that's good" book. I'm going to continue that legacy.
He started as a milkman and created an amazing business. If I wanted to get him really excited, all I had to do was say, "Hey Dad, let's go visit a store." He loved hugging all our Team Members and talking to our customers. "Closer, closer!" he would bark for every picture taken with everyone, which could take hours, but this energized him.
He leaves behind my mom Marianne, four kids – me, Tom, Beth, and Jill - 13 grandchildren and spouses, great grandchildren, and many nieces and nephews. And many great Team Members who were inspired by him, too.
I was lucky enough to stand on your shoulders, Dad, and by the way, I'll keep trying to find the best meatball, marinara sauce, and pizza. And every time I cook salmon, I'll think of you saying that the inside needs to be the perfect pink.
I'm choking up just writing this, but I'm trying to focus on 93+ years of his amazing and colorful life. I was fortunate enough to spend 68 of them by his side.
Dad, I'm really going to miss you. I was lucky and grateful to have an amazing Dad.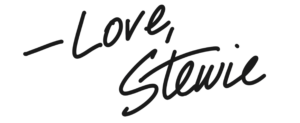 Inflation Impact – How Are Things Going At The Store?
Customers traffic is up but you're putting fewer items in your shopping cart. You're buying more of what you need and not necessarily what you want. Meat prices are higher this year than last. Filet was $14.99/lb. last year at Easter. This year it's $16.99/lb. Talking to our ranchers, it's the same. Grain, labor, and fuel costs. There's also high demand. Bright spot - chicken prices are low (boneless breast at $3.99/lb.) Boneless breasts are in the ad this week for $2.49/lb., save $1.50, and hams are the same price as last year. Bacon has also come down.

Unbundling The Store Post Covid
It's time to return to our "normal" operations again. Taking down some plexiglass. Opened up our buffets, BUT we're not doing the cold salad bar. You prefer the ready-to-go salads much more. Back to an aggressive sampling program and we adjusted some store hours. The hand cleaning wipes will be here to stay!

A few future changes that will stick are the "grab 'n go" prepared food selection at the store, which has tripled since Covid along with frozen food sales. Customers stocked up during Covid. Everyone found that frozen foods taste really good! I'm eating more of it myself at home. With more people working from home, sales are stronger on Monday, Tuesday, and Wednesday.

"One Idea Club" Strikes Again!
We regularly take what we call a "One Idea Club" trip. We took 25 managers to Dallas to visit one of our favorite stores, Central Market. They look like a European market and produce over 90% of their fresh food on premises. Yes, we also ate plenty of Texas BBQ! Here are some ideas we came home with:
• Better reheating instructions for our prepared meals. Air Fryer instructions
too.

• Roasting our own roast beef and turkey in-house in our smokers.

• Vacuum sealing our pizzas, mac & cheese, chicken parm and grilled marinated balsamic chicken.

• Central Market blended some pistachio nuts and white chocolate together for us to taste. Unbelievably delicious.

Where Does All The Leftover Food Go?
Our high volume keeps the turnover high and food fresh. But just like at your home, we have leftovers. Every morning, 4-5 vans show up at Stew's and bring it to seniors and the homeless in the area.

Charity Donations Are Shrinking. Here's Why.
You used to throw your loose change in the Wishing Well but now our customers are using credit cards and Apple Pay (90% electronic). Cash and checks are old school. We'd give about $500-$1,000 a week in "loose change" from our customers. This money goes to great causes like breast cancer research, the American Heart Association, the disabled, Veterans, and even local sports teams. Here's an idea. When I shop at some stores, they ask me if I want to "round up" to the nearest dollar. What do you think if we began that at Stew's? It would solve the problem, but we don't want to nag you about it! Give us a quick YES or NO! Vote here.
Farm Raised Or Ocean Raised?
We just returned from the Boston Seafood Show and the big buzz there was about sustainability. Basically, it means that we don't want to overfish our waters. The "farms" that we buy from are out in the ocean and they're the size of two football fields and 10-12 stories deep. In this type of farm, only 3% of the water is occupied by the fish. They also eat a similar diet as if they were wild. Our job at Stew's is to make sure we buy from the great farms so that you get the best and freshest fish.
My Daughter Might Flunk Her Class At NYU
My second oldest daughter, Ryann, is getting her MBA at NYU and is taking a class on branding. The professor asked each student to introduce themselves and when she mentioned she was part of the Stew Leonard family, the professor said, "You just flunked!" She asked why and he said that he used to be in charge of one of the country's leading salad dressings. He said that, at that time, your grandfather introduced Paul Newman salad dressing and it made his life tough. Now, it's payback time. He told Ryann to tell her grandfather he's going to make her life tough now too! Of course, he was just kidding. He said it with a smile.
TOP 10 Hot Sellers For Easter
Easter is coming. Here are our top hot sellers:

1. Smoked Easter hams. They're smoked in real hickory wood chips. One of our most popular videos shows you how to reheat the ham. They're spiral cut, too. Just heat and smile! It's the same price this year $3.99/lb. After visiting the local smokehouse recently, my clothes smelled so smokey that my wife made me change clothes in the garage before heading into the house!

2. Easter lilies. If you peek in our greenhouses, you'll see acres of Easter Lilies. They look beautiful.

3. New Zealand lamb. I love the lamb lollipops! Taste is great because all they eat is grass and drink mother's milk. Watch how I like to make them and a butterflied leg of lamb at home on the grill.

4. Cannoli made with our own fresh filling that's a rich and sweet cheese mixture made with a blend of ricotta and mascarpone cheese. And don't forget, they're drizzled with chocolate.

5. Snowball rolls that are light and fluffy and melt in your mouth.

6. All our platters are popular like cheese, vegetables, and shrimp.

7. Family salads full of different fresh vegetables and cheeses handmade daily.

8. Fruit bowls jam-packed with berries and tropical fruit fresh-made daily.

9. Chocolate Bunny Milk in our special edition glass bottle. We'll sell over 10,000 thousand bottles this season.

10. Jellybeans of course. We sell over 15,000 lbs. Easter week!
Wine And Spirit Trends
You can see a trend towards great wines under $20 and a slowdown of wines over $50. My wine experts and I are headed to the big Italian wine show, Vinitaly, in Verona. We'll see our friends that own wineries and find some new "Hidden Gems" for you. Say goodbye to my diet and say hello to pizza and pasta. Oh well!

Tito's is still rocking as the #1 vodka. Tequila is growing. Everyone is coming out with one (like Dwayne "The Rock" Johnson, Kevin Hart, Adam Levine, Brian Cranston, and Eva Longoria). Cocktails in a can rock too. Vodka Soda is #1, Margarita is #2, and Cosmopolitan is #3. Non-alcoholic beers are big, like Heineken 0.0, but the best seller is from Athletic Brewing Co. in Stratford, Conn.

For more wine and spirits scoop, check out my daughter Blake's Around the Store newsletter here.
My Latest Addiction
Our Balsamic Grilled Chicken. Marinated overnight, flame grilled, and sliced in the morning. Great for salads.
Free Ice Cream
I was stunned. I just heard that we gave away 1.3 million ice cream cones and coffees last year! On the app, once you collect 100 points, you get one free. The cooler weather didn't even seem to slow our customers down! Now for you customers that have accumulated mega points (and can't eat that much ice cream) we're going to give you a chance to get some free products that we are introducing. You'll be seeing this soon.
You Give $5, I'll Give $5
If you would like to donate $5 a month for teaching a needy child to swim, I'll donate $5 and match your donation. Sign up here.
I Hate Your Paper Bags! The Handles Always Rip!
Many communities have eliminated plastic bags. Now all we're using at the registers is paper, which has increased 10-fold. (New Jersey has eliminated both.) It takes 6 trailer loads of paper for every 1 load of plastic. Not helping the environment… How do you reduce the amount of paper we are using? We do have the recyclable bag (99 cents) which we're all getting used to (70% of customers). We're also introducing a new thin mesh bag that will only cost 25 cents. We're trying to cut down the amount of paper we're handing out. The best solution is to BRING YOUR OWN BAG but why do I always forget mine in the car?
JAKE COO- Family Business
80% of our managers are promoted from within. Same goes for family members. We just promoted my nephew Jake to Chief Operating Officer. He started out in the ice cream parlor, ran registers, finished college (a requirement for family members), worked at Wegmans for 3 years in their management training program, works hard (a requirement by my dad!), and has the respect of our management team.
What Do You Get When You Add 4 New Ovens, A Bagel Kettle, And 3 New Bread Mixers In Norwalk?
A bigger and better bakery! You should see our new bakery in Norwalk by the end of April. You'll be able to see the fresh breads coming out of the ovens. It'll be more visible for you and more efficient for us.

We're also combining coffee and ice cream and relocating them behind the registers. New eco-friendly display cases are being installed, too. With them, our energy consumption will go down 30%.
The Real Secret To Cooking Fish
Here's another thing we learned at the Boston Seafood Show. We met Iron Chef Andrew Wilkinson and he's been cooking fish around the world for 30 years. He told us that all fish love butter, lemon, white wine, and salt and pepper. It's as simple as that!