Fresh From Our Garden Shop
Our Top-Quality Plants Will Thrive In Your Yard
Choose from your flower garden favorites -- Knockout roses, impatiens, and one of the largest selections of flowering bulbs in New England... ornamental trees including cherry, Japanese maple and dogwood... landscapers' choices like boxwoods, azaleas, and arborvitae... and herbs and vegetables that go from garden to table.
Farm Fresh Garden Journey
Ever wonder how flowers get from the farm to your doorstep? Watch as we take you on a plant journey and see how a colorful array of hanging baskets, bedding plants, and annuals make their way from their original soil to Stew's and, finally, to your home.
Fill Your Garden With Amazing Annuals
Enjoy long-lasting color when planting annual flowers. Annuals generally last until the first frost or until growing conditions are no longer favorable.
Great Tips For Growing Bedding Plants
If you're looking for big splashes of vibrant color in your garden, bedding plants are the way to go!
Beautiful Hanging Baskets
Stew and our plant supplier, DeFrancesco Farms, share some great tips about hanging plants and adding instant eye-popping color to your deck, patio, and garden.
Easy Planter How-To
Sue is a customer favorite at Stew Leonard's Garden Shop! Not only is she the nicest team member you could meet, she's also an EXCELLENT garden designer! She's got a GREAT tip for making an easy garden planter. Not sure what plants to choose? She'll tell you!
EARLY APRIL LAWN CARE
In early spring as the grass is just beginning to grow it is important to apply a fertilizer. Grass needs a lot of nutrients in order to grow and stay healthy throughout the summer. It is important to apply a crabgrass and other grassy weed preventer at this time to inhibit them from germinating. If the soil is compacted and the grass hasn't grown well it may be time to aerate. Make sure the lawnmower is working before you need to use it. You can apply the first application of fertilizer and crab grass preventative anytime between February and April.
APRIL TO JUNE LAWN CARE
This second application feeds that hungry lawn to keep it going and it will also kill weeds such as dandelions and many other broadleaf weeds which are beginning to grow. Make sure to apply it on a damp lawn before the dew dries when there is no wind. This can be applied anytime between April and June.
HOW TO CHOOSE THE RIGHT GRASS SEED
Here in New England and New York locations we are in a zone where we grow cool season grasses. These grasses grow in areas that get freezing winters and hot summers. Choosing the type of grass seed depends on the look you want and also on the growing conditions where you are planting it.
HOW TO SEED YOUR LAWN
First, determine what type of grass you are planting. Keep in mind that you may need more than one type for your yard. Be mindful that cheaper seeds may have lower germination rates.
Look for a seed label that has an 80-90% germination rate.
Break up the soil with a tiller or rake. Apply a starter fertilizer over the loosened soil.
Add compost, peat moss or dehydrated manure and rake this into the soil. Then rake it to level it out, tamp the soil down then add the seed. Lightly rake to add a thin layer of soil over the seed.Lastly, add a layer of a pre-chopped hay and straw substitute. This is better than hay as it has been treated so that the weeds and mold spores have been removed. This is also an ORGANIC product and will decompose in about 3-4 weeks just about in time to mow your new grass.
Water daily using a fine mist to prevent any seed runoff, keeping it evenly moist. Water for about two weeks after it has sprouted. When the grass is 2" high, remove any remaining hay.
COOL SEASON GRASSES
Determine if you need sun, shady or sun/shade grass seed or even high traffic. Sunny grass seeds grow best in areas that receive 6 to 8 hours of sun or more each day and are more tolerant of heat and dryness. The grasses that do best here are perennial rye grass, Kentucky Blue grass, creeping bentgrass, fescue and Bermuda grass. Shady grass seeds grow best in areas that receive little or no sun. The best seeds for this is creeping fescue, velvet bentgrass, tall fescue, perennial ryegrass and rough bluegrass.
Sun and shade seeds combine the two. Heavy traffic seeds such as tall fescue have a courser look but tolerate areas with high use. Many seed companies combine more than one seed in the package for the best coverage. If you have any questions please ask one of our team members for further assistance.
HOW MUCH FERTILIZER DO I NEED FOR MY LAWN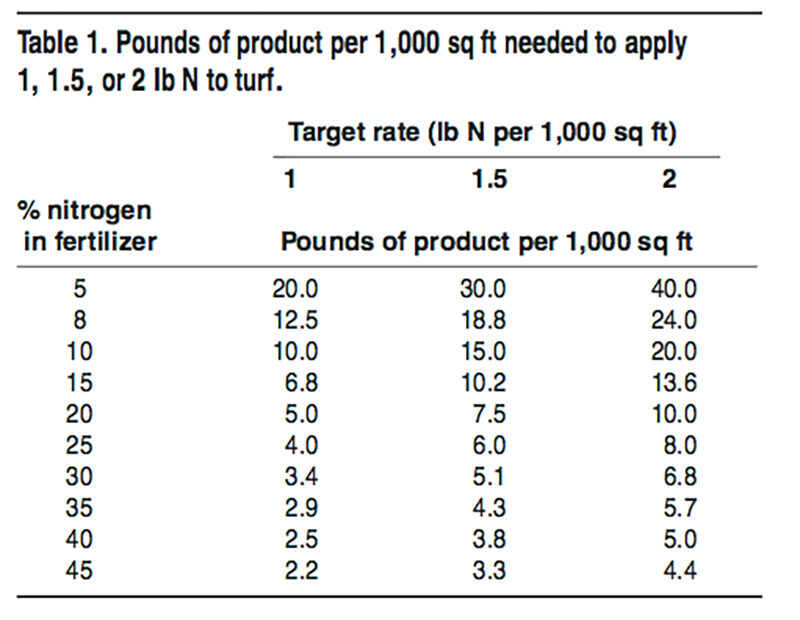 Top 5 Frequently Asked Questions
What is the difference between an annual and perennial?
Annuals are plants that live their whole life span in one season. They grow, flower, set seed, and die all in one year. Stew Leonard's Garden Shoppes most popular annuals are geraniums, impatiens, petunias, marigolds, and begonias.
Perennials are plants that take a few years to mature, some lasting 50 years or more. Most flower for shorter periods of time than annuals and can be divided after becoming established. For continuous color all season long, use perennials that bloom at different times. Stew Leonard's Garden Shoppes most popular perennials include hostas, lavender, bleeding hearts, astilbe, coneflowers, and dianthus.
How do I plant and take care of newly planted trees and shrubs?
Start by digging a hole approximately 2.5 times the diameter of the pot. The depth of the hole is measured by the root ball in the container and not the container depth, as not all pots will be full. Remove the plant from the container by tapping the sides of the container to loosen the soil. Examine the root system. Are the roots visible? Is there any sign of insects? Take a knife and score the roots to loosen the soil. This will make it easier for the plant to establish itself in its new environment.
Put the plant in the hole and fill it halfway with a mixture of 1/3 dehydrated cow manure, 1/3 peat moss (or 1/3 coconut coir, which is an organic substitute), and 1/3 top soil. Water, let the soil settle, and fill again with soil until the soil is level with the ground. After planting, mulch your shrub or tree to prevent water from evaporating and weeds from growing. It is also important to water every day for the first two weeks, then two to three times a week for the first year.
The most popular trees at Stew Leonard's Garden Shoppes are dogwoods, cherry, magnolia and different varieties of Japanese maple. The most popular shrubs include forsythia, boxwoods, rhododendrons, andromeda, holly, and junipers.
How much mulch do I need?
Stew Leonard's Garden Shoppes sells mulch in 3 cubic foot bags, which covers 18 square feet. To start, measure the area you'll want to cover and then multiply the length by the width to get the square feet. Divide your total square feet by 18 to calculate the number of bags you'll need for approximately a depth of 2 inches of coverage. So, for example, a 10' by 15' bed is 150 square feet. A 3 cubic foot bag covers 18 square feet, so you'll need about 8 bags to cover the bed.
Which plants are deer resistant?
Remember that deer resistant is not deer proof! Deer walk in a set pattern and they have started eating things they formerly would not. Deer resistant trees to plant include Norway spruce, white pine, and crepe myrtle, while deer resistant shrubs include boxwoods, andromeda, and mountain laurel. Customers can also look for deer resistant annuals like ageratum, alyssum and cleome and deer resistant perennials like astilbe, coreopsis, and yarrow.
In addition to planting deer resistant trees, shrubs, and plants, customers can alternate sprays like locally made Bobbex Deer Solution with Deer Scram granules.
What can I plant to help repel insects and bugs, especially along my patio?
While no garden is ever pest free, there are plants that can ward off some unwelcome visitors! Plants may repel insects and bugs from the scent they give off naturally or the scents released when they are crushed or bruised, the taste can be disliked or poisonous to the "critter." Here is a list of just a few plants to consider that will look beautiful and even enhance your backyard.
Dill repels aphids and spider mites. This herb has aromatic foliage and seeds that have many uses in cooking as well!
Lavender is not only a beautiful perennial but it also repels unwanted pests away such as mosquitoes, fleas, gnats, moths and flies. Plant this near an outdoor sitting area that receives at least 8 hours of sun a day.
Lemon balm is a repellant for mosquitoes. It can be used in teas and has a pleasant scent of lemon and mint. Crush the leaves and rub onto the skin to repel insects.
Lemongrass repels mosquitoes and contains an ingredient that is in citronella oil. Plant it near a sitting area.
Marigolds have a pungent odor which keeps many pests away, such as aphids, mosquitoes, Japanese beetle, nematodes and rabbits.
Mint's aromatic leaves, stems and flowers (especially peppermint and spearmint) repel mosquitoes, ants, whitefly, moths, aphids and beetles.
Oregano is not only a tasty way to spice up any meal, but it also repels many pests in general, especially mosquitoes.
Rosemary will repel mosquitoes, slugs, snails and others, whether the leaves are crushed or intact.
Sage attracts honeybees but repels mosquitoes, cabbage moth and carrot fly and ticks. Try burning some sprigs in the barbecue or fire pit to ward off mosquitoes.
"The Stew Leonard's principles of friendly, knowledgeable customer service and fresh-from-the-farm foods also apply to our Garden Shoppes," said Stew Leonard Jr., president and CEO. "The gardening staff is eager to help customers and answer questions. Many of the flowers and plants available for purchase are grown on local farms, including Geremia Greenhouses in Wallingford, Conn., DeFrancesco Farm in Northford, Conn., Prides Corner Farms in Lebanon, Conn. and Angel Plants in Dix Hills, N.Y."
As soon as the snow melts, it is time to get started with spring cleanup! By following Stew Leonard's experts' check lists, customers can ensure the return of a healthy, beautiful garden and lawn every year:
Early Spring Gardening Check List
Check your tools! Dip them in a container of hot soapy water, use a brass bristle brush to scrub them, then rinse and dry with an old towel. You can sand any wooden handles and paint them as well.
Get a good pair of gloves to protect your hands and avoid blisters.
Rake the lawn to remove thatch and any debris.
Before any pests get the chance to hatch, apply a dormant oil spray on plants to suffocate any eggs that were laid. Stew's garden experts recommend Bonide All Season Spray Oil which works on a number or pests and is also safe for organic gardening.
Fertilize rhododendrons, azaleas, hollies and Andromeda.
When you see forsythia blooming, it is time to fertilize the lawn. Stew's carries both organic and inorganic lawn fertilizers.
If you're planning on seeding the lawn, apply a starter fertilizer and then apply seed to your lawn.
Grilled Vegetable Pizza
Grilling dough gives pizza its flavorful char and airy texture. Topped with a bounty of fresh produce and our house made hummus and gooey mozzarella, this is one recipe that just may become your Friday night go-to dinner.
Heirloom Tomato & Yellow Squash Salad
Make this simple and delicious tomato salad with bright and fresh heirloom tomatoes and fragrant basil for any brunch, lunch, or dinner meal. Let the tomatoes stand in the vinaigrette for about 10 minutes to allow them to marinate and release their flavorful juices into the dressing.