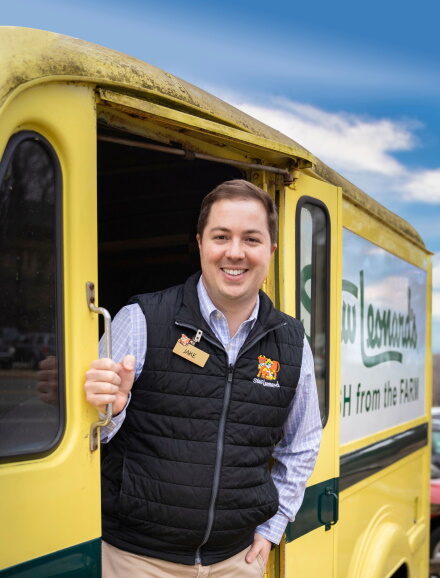 Stew Leonard's APPOINTS JAKE TAVELLO AS COO
Member of Third Generation of Family-Owned Business
Norwalk, Conn. – March 1, 2023 – Family owned and operated Stew Leonard's today announced that Jake Tavello has been named Chief Operating Officer. Tavello, who first joined Stew Leonard's in 2003 while in high school, has served as Vice President of Stores since 2020, managing company-wide technology initiatives and sales opportunities. In his new role as COO, he will oversee product quality and freshness, customer service excellence, and growing Team Members.
Stew Leonard's is a family affair for Tavello, who is a grandson of store founder Stew Leonard and a nephew of the company's current president & CEO, Stew Leonard, Jr. "Since joining the family business, Jake has not only earned my respect but the respect of his peers at Stew's," said Stew Jr. "He works hard and not only has the best interests of Stew Leonard's at heart, but he also really wants to grow and develop our Team Members."
"I'm sure that when my grandfather first opened in 1969, he never dreamed that Stew Leonard's would one day welcome more than 20 million shoppers a year, have 3,000 Team Members, or seven farm fresh food stores," noted Tavello. "I'm excited to be part of the team leading our family business into the next generation and I hope to continue my family's commitment to creating happy Team Members and happy customers at Stew Leonard's."
Tavello has worked in every department across all Stew Leonard's food stores, learning everything from how to toss pizza dough and roast coffee to how to cut a 200-pound swordfish. He also worked for three years at Wegmans Food Markets in their Management Training program, both in Rochester, NY and outside of Boston. Tavello returned to Stew Leonard's in 2015 as Store Director at Stew Leonard's Danbury location and launched Instacart at Stew's. He then went on to serve as the opening VP of Stew Leonard's in Paramus before his promotion to Vice President of Stores in 2020.
Tavello graduated from Salve Regina University and received his Master's in Business Administration from Bentley University.
About Stew Leonard's
Stew Leonard's, a family-owned and operated fresh food store founded in 1969, has seven stores in Norwalk, Danbury, and Newington, Conn.; in East Meadow, Farmingdale & Yonkers, N.Y.; and in Paramus, N.J. Stew's earned its nickname, the "Disneyland of Dairy Stores" because of its country-fair atmosphere, with costumed characters and animated entertainment throughout the store that keep children entertained while parents shop. Stew Leonard's legion of loyal shoppers is largely due to the stores' passionate approach to customer service: "Rule #1 -- The Customer is Always Right"; Rule #2 – If the Customer is Ever Wrong, Re-Read Rule #1." This principle is so essential to the foundation of the company that it is etched in a three-ton granite rock at each store's entrance. The company's culture is built around an acronym for S.T.E.W.: Satisfy the customer; Teamwork gets it done; Excellence makes it better; WOW makes it fun.