Apple Cider Chicken with Butternut Squash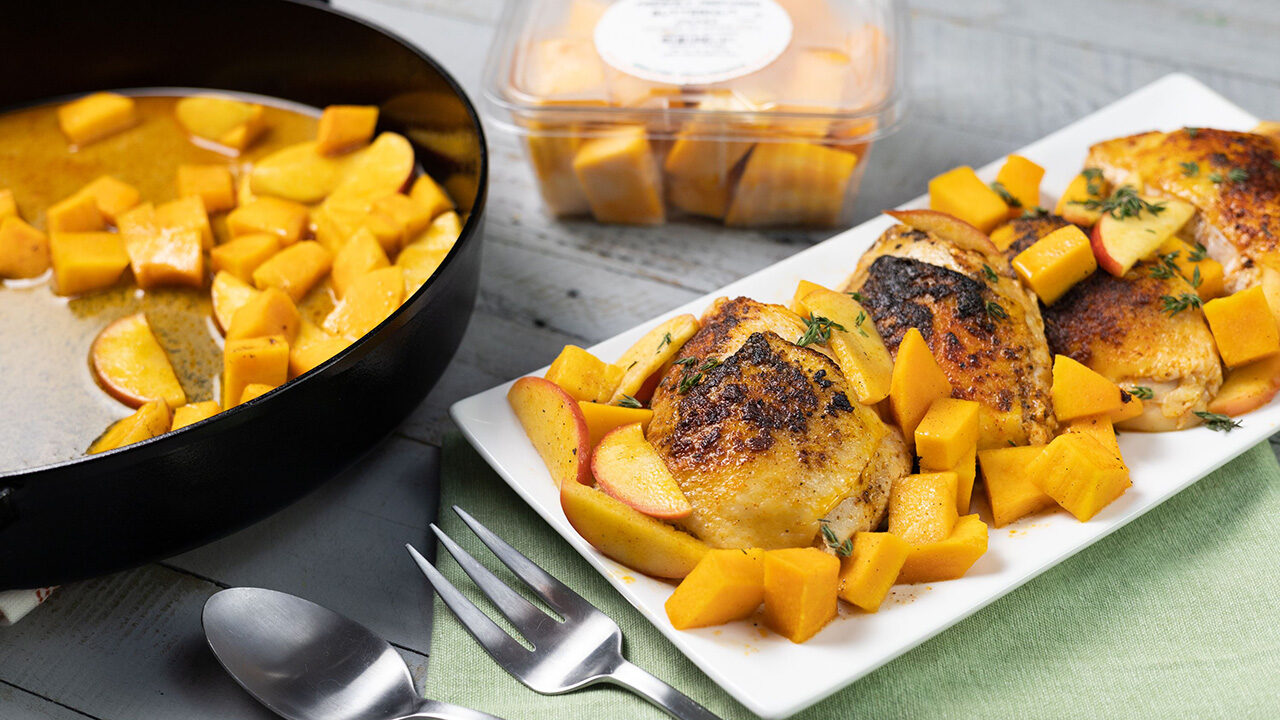 Stew's delicious apple cider is the secret to this cozy meal that's perfect for a seasonal dinner any night of the week.
Servings: 4
Prep Time: 20 minutes
Cooking Time: 1 hr. 5 minutes
Total Time: 1 hr. 25 minutes
Ingredients
4 Stew's Bone-In Fresh Chicken Thighs
3 Tbsp. Stew's Extra Virgin Italian Olive Oil
2 Tbsp. Stew's Smoked Paprike
1 teaspoon Stew's Kosher Salt
1 teaspoon Stew's Fine Ground Black Pepper
1 cup Stew's Apple Cider
2 Tbsp. Stew's Unsalted Butter, room temperature
1 Tbsp. Dijon Mustard
1 Tbsp. Brown Sugar
1 Tbsp. Soy Sauce
2 cups diced Butternut Squash (1-inch cubes)
1 Honeycrisp Apple, cored and sliced
Fresh Thyme Leaves, for garnish
Directions
Preheat oven to 425°F.

In a small bowl, combine 1 Tbsp. of the olive oil, paprika, salt, and pepper. Rub the mixture all over the chicken thighs.

Heat an oven-safe or cast-iron skillet over medium-high heat for about 5 minutes. Add 1 Tbsp. of the oil. Place the chicken, skin side down, in the skillet and cook until skin gets golden brown. Transfer to a clean plate.

Turn the heat down to medium. In the same skillet, add the apple cider, butter, mustard, brown sugar, and soy sauce. Bring the mixture to a simmer and stir until smooth.

Remove from heat and add the thighs back to the skillet, skin side up.

In a large bowl, combine the butternut squash, apple slices, and remaining oil. Toss to coat.

Add to the skillet with the chicken and place in the oven. Roast for 30-40 minutes or until juice of chicken is clear when thickest part is cut to the bone (internal temperature should be 165°F) and squash is tender.

For serving, drizzle the chicken with some of the apple cider sauce directly from the skillet and garnish with thyme leaves.