Beef Tenderloin Sandwiches with Lemony Horseradish Sauce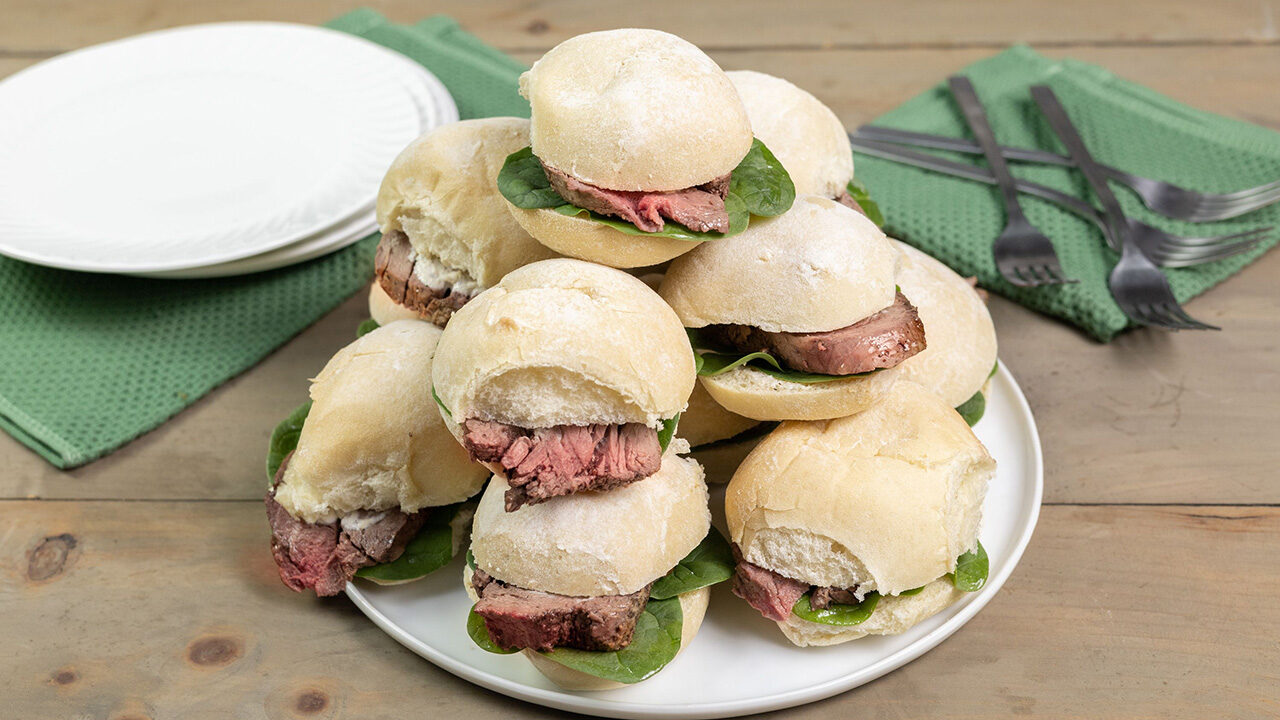 Super flavorful and tender, this beauty of a recipe has you roasting off the beef tenderloin one day then simply slicing for sandwiches the next. It's the perfect make ahead treat for small parties and get-togethers.
Servings: 12-18
Prep Time: 10 minutes
Cooking Time: 40 minutes
Total Time: 50 minutes
Ingredients
1 (3-4 lb.) Stew's Whole Already-Trimmed Filet Mignon Beef Tenderloin
1 Tbsp. Stew's Extra Virgin Italian Olive Oil
3 Teaspoons Stew's Kosher Salt
2 teaspoons Stew's Fine Ground Black Pepper
3 Tbsp. Stew's Unsalted Butter, melted
1 teaspoon fresh Lemon juice
1/2 cup Stew's Horseradish Sauce
12 Stew's Snowball Rolls
Stew's Organic Baby Spinach
Directions
Remove the tenderloin from the refrigerator about 1 hour before cooking.

Preheat oven to 475°F.

Add the oil to a large roasting pan. Place the tenderloin in the pan and season with the salt and pepper. Place in the oven and cook for 10 minutes.

Pour the melted butter over the beef and continue roasting until the meat reaches an internal temperature of 130°F for medium rare, 25-30 minutes. Temperature will rise 5-10 degrees while resting.

Wrap the beef in aluminum foil and refrigerate 8 hours or overnight. Cut into thin slices for the sandwiches.

Mix the lemon juice into the horseradish sauce.

Slice the snowball rolls in half and spread the bottom half of each roll with the horseradish sauce. Top each with spinach leaves and layer with the cold beef tenderloin slices. Add a small dollop of the horseradish sauce to each and season with more salt and pepper, if desired.