Braised Chicken Thighs with Garlic and Rosemary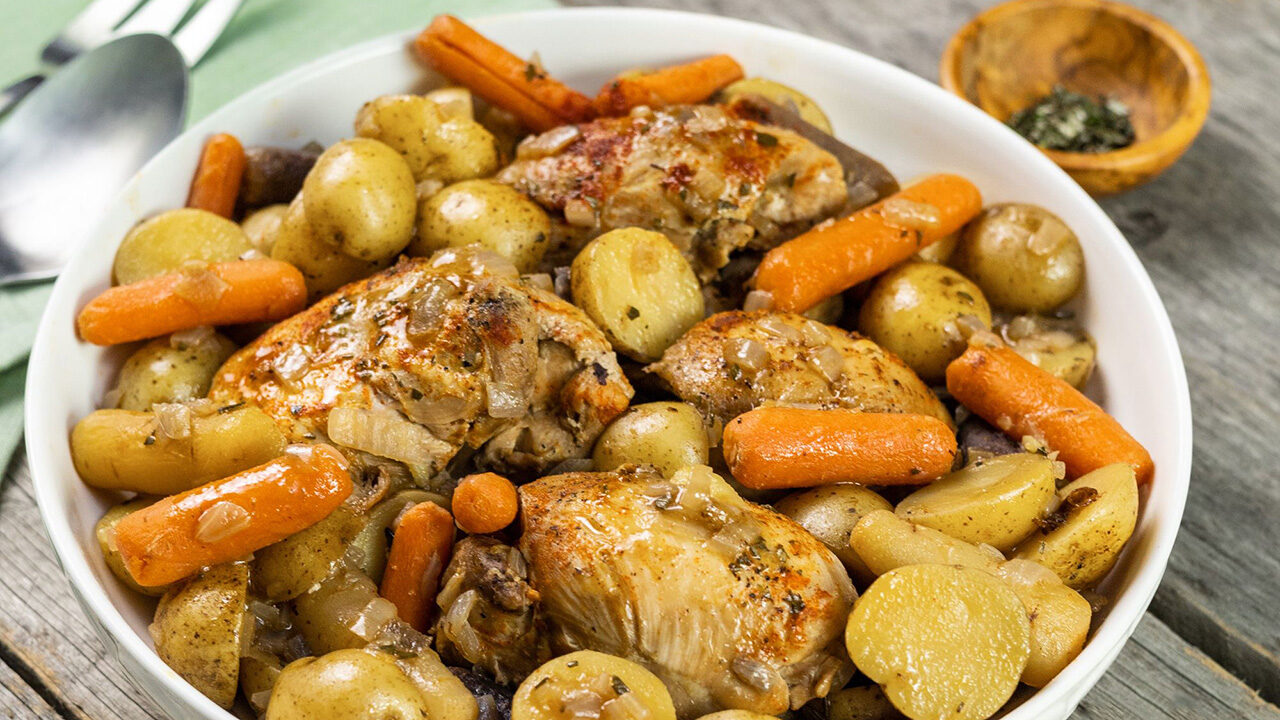 Easy braised chicken thighs cooked with onions, potatoes, and carrots deliver comfort food at its best with very little time spent in the kitchen. A splash of white wine adds extra flavor to this one-pot meal.
Servings: 4
Prep Time: 25 minutes
Cooking Time: 35 minutes
Total Time: 60 minutes
Ingredients
1-1/2 lb. Stew's Boneless Skinless Chicken Thighs
Stew's Kosher Salt
Stew's Fine Ground Black Pepper
Stew's Smoked Paprika, to taste
2 Tbsp. Stew's 100% Italian Extra Virgin Olive Oil
1 Red Onion, chopped
1 Tbsp. Stew's Freshly Chopped Garlic (optional)
1 lb. Baby Potatoes, halved
8 Carrots, halved lengthwise and cut into 1-1/2 inch pieces
1 Tbsp. All-Purpose Flour
1-1/3 cups Stew's Organic Low Sodium Chicken Broth
1/3 cup White Wine
1 teaspoon finely chopped fresh Rosemary
Directions
Season the chicken lightly with salt and pepper and then generously with the paprika.

In a Dutch oven over medium-high heat, warm the olive oil. Add the chicken and cook, turning once, until browned, about 2 minutes per side. Remove to a plate.
Add the onion to the pan and stir, then add the garlic (if using), potatoes and carrots. Season with salt and pepper and sauté until the vegetables are beginning to brown, about 5 minutes. Add the flour and stir to coat. Gradually stir in the broth and wine and bring to a boil, stirring frequently. Return the chicken to the pan and bring to a boil.

Cover the pan, reduce the heat to medium-low, and simmer until the chicken and vegetables are cooked through, stirring, and turning the chicken over occasionally, about 25 minutes. Stir in the rosemary halfway through the cooking time.