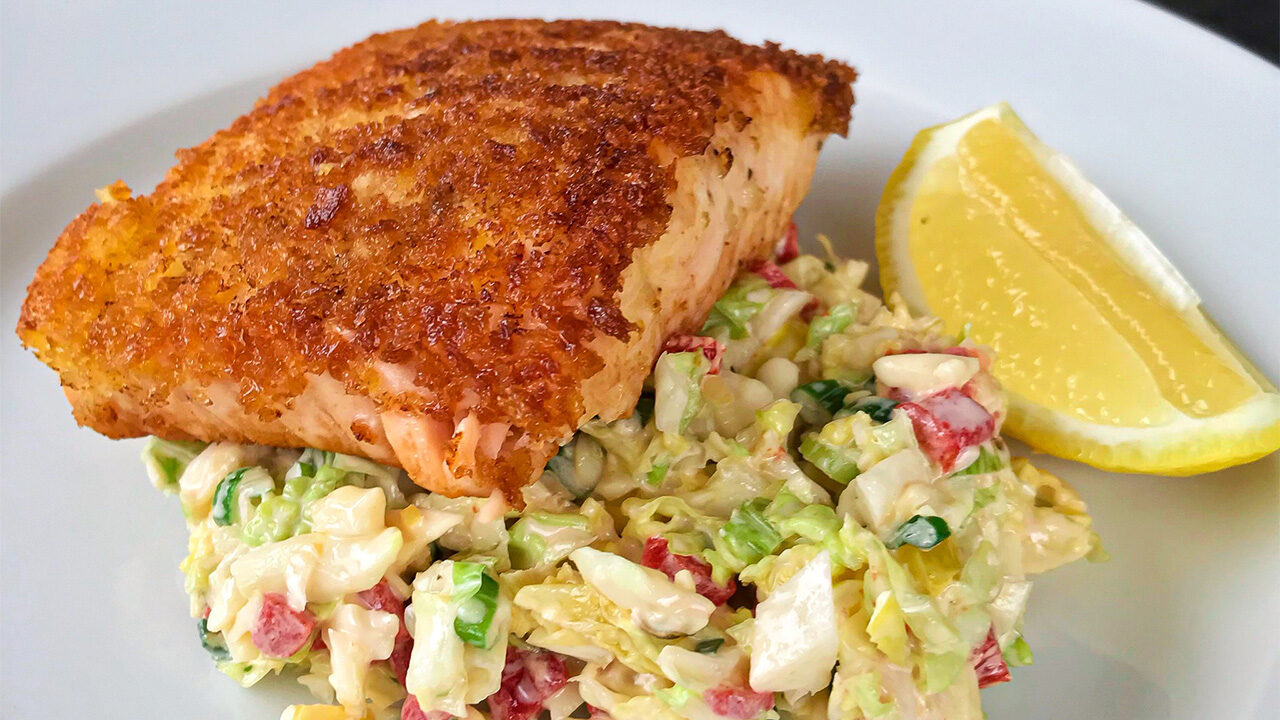 This simply delicious, pan-fried salmon recipe results in a golden brown, crispy crust coating the juicy, tender salmon.
Recipe courtesy of Chef Andrew Wilkinson, North Coast Seafood
Photo courtesy of Christian L'Heureux, North Coast Seafood
Servings: 2
Prep Time: 20 minutes
Cooking Time: 15 minutes
Total Time: 35 minutes
Ingredients
(2) 6-ounce Salmon Fillets, patted dry of any excess moisture
1 Egg, beaten
1/2 cup Panko Breadcrumbs
Kosher Salt, to taste
Cracked Black Pepper, to taste
Directions
Place beaten egg and breadcrumbs in two separate shallow bowls.

Heat a non-stick pan over medium high heat. Add canola oil to coat pan.

Season salmon portions with salt and pepper. Dip the top side of each salmon portion in beaten egg and then in the Panko, breading only on the top side of the salmon.

Place portions in the pan, breaded side down. Salmon should sizzle when placed in pan.

Pan fry for about 4 minutes until a golden-brown crispy exterior is achieved.

Flip and cook for approximately 3 more minutes.

CHEF TIP: To check that salmon is cooked through, gently push the flat side of a wooden skewer through the thickest part of the fish. If it goes through with no resistance, it is done. If there is resistance, cook for another minute or so and test again.

Plate salmon with your favorite coleslaw and enjoy immediately!