Buffalo Chicken Enchiladas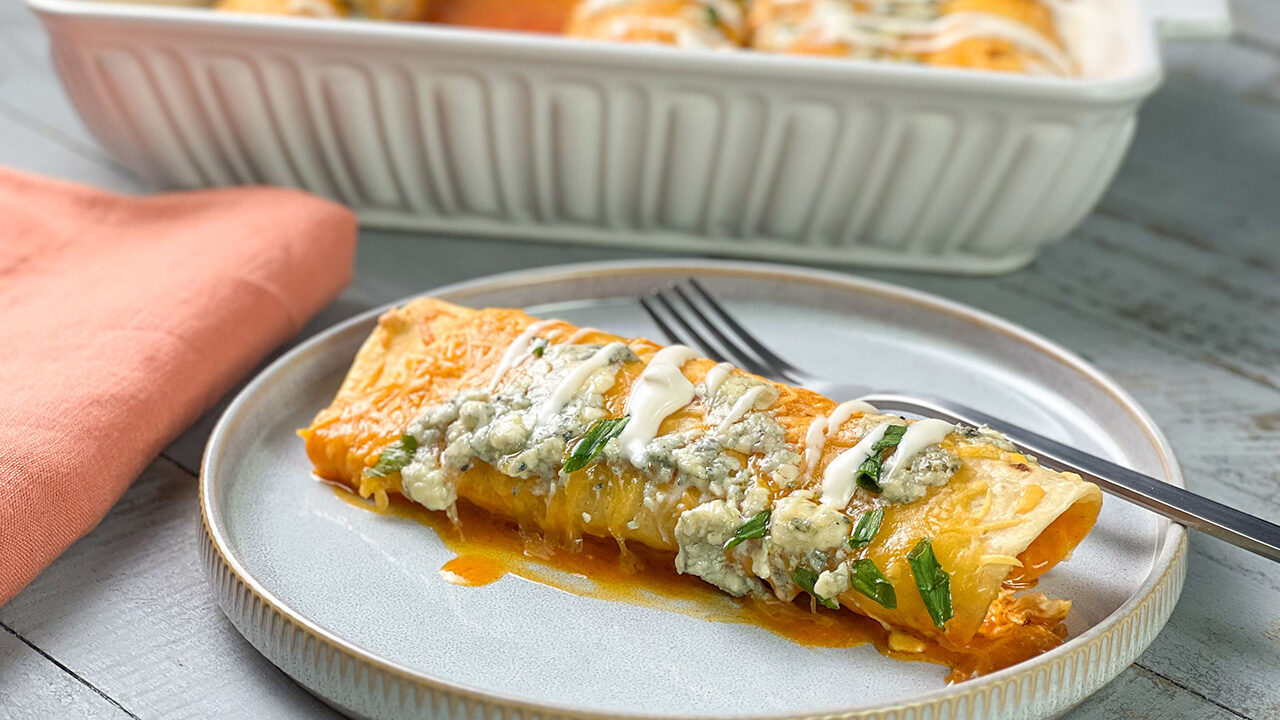 Try this hearty enchilada recipe that's full of tender rotisserie chicken, melty cheese, and quick and flavorful Buffalo hot sauce.
Servings: 4
Prep Time: 15 minutes
Cooking Time: 15 minutes
Total Time: 30 minutes
Ingredients
1 large Stew's Naked Rotisserie Chicken (4 cups, shredded)
6 oz. Cream Cheese, softenened
1 1/2 cups Stew's Shredded Extra Sharp Cheddar Cheese
1/2 cup Frank's Hot Sauce
2 Tbsp. Scallions, sliced
1/4 teaspoon Stew's Ground Cumin
Five 10-Inch Flour Tortillas, warmed in microwave, kept warm in damp paper towels
1 Tbsp. Stew's Crumbled Blue Cheese
2 Tbsp. Blue Cheese Dressing
Buffalo Hot Sauce:
1 1/2 sticks Stew's Unsalted Butter
3/4 cup Frank's Hot Sauce
1/2 teaspoon Stew's Garlic Powder
Directions
Preheat oven to 400°F. Spray an 8 x 11-inch baking dish with non-stick cooking spray.

To make the Buffalo Hot Sauce: Melt butter in a small saucepan over medium-low heat. Turn off heat. Add the hot sauce and garlic powder and whisk to combine. Set aside.

In a large bowl, add the shredded chicken, cream cheese, 1 cup of the Cheddar cheese, hot sauce, half of the sliced scallions, and cumin. Mix well to combine.

Spoon a portion of the chicken mixture down the middle of each tortilla and roll up. Place them seam side down and side by side in the baking dish. Pour the hot sauce mixture over the tortillas. Sprinkle with the remaining Cheddar cheese and the crumbled bleu cheese.

Bake until cheese is melted and bubbly, about 15 minutes.

Drizzle with the blue cheese dressing and sprinkle with the remaining scallions.