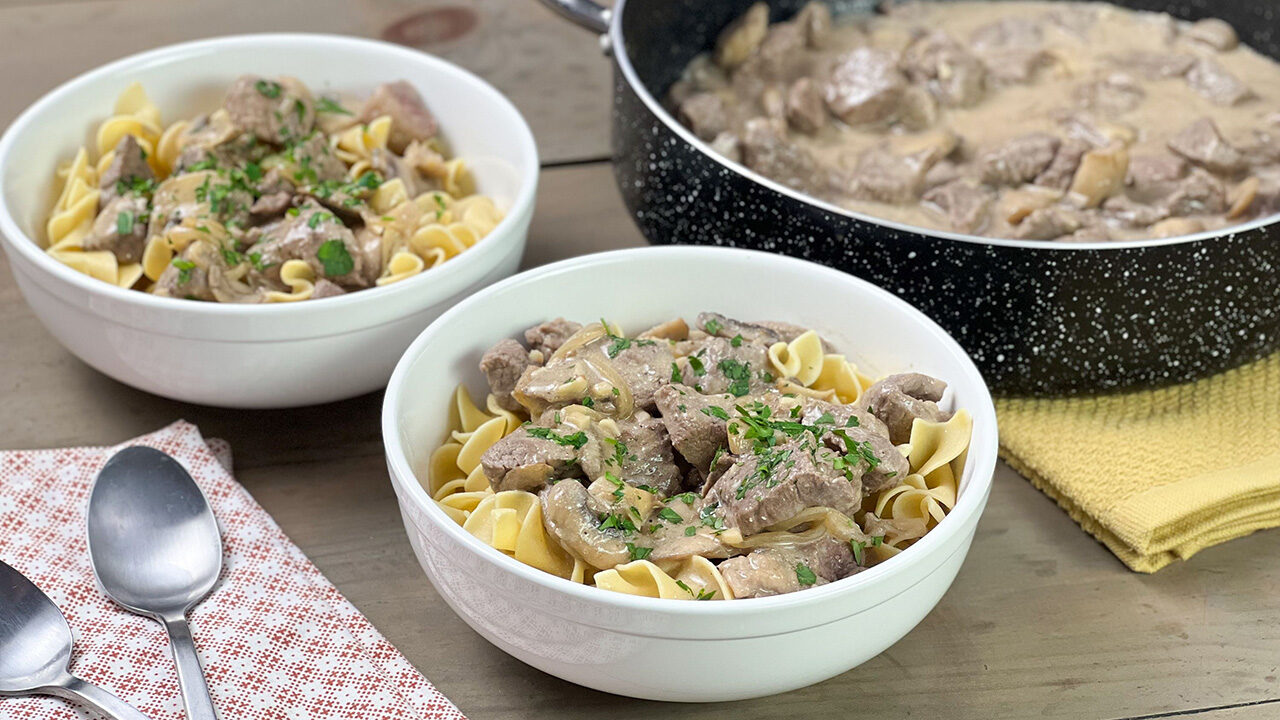 This update on a classic and warming recipe comes together in no time. It's a delicious way to cook stew meat, leaving it tender and full of flavor that's ideal for any dinnertime meal.
Servings: 4
Prep Time: 10 minutes
Cooking Time: 35 minutes
Total Time: 45 minutes
Ingredients
1 lb. cooked wide Egg Noodles
1 1/2 lbs. Stew's Naked Beef Chuck Stew Meat
Stew's Kosher Salt, to taste
Stew's Fine Ground Black Pepper, to taste
1 Tbsp. Stew's Extra Virgin Italian Olive Oil
4 Tbsp. Stew's Unsalted Butter, divided
1 small White Onion, thinly sliced
1 lb. Stew's Fresh Mushrooms, sliced
1 Tbsp. Stew's Freshly Chopped Garlic
1/2 cup White Wine
1 1/2 cups Stew's Organic Beef Broth
1 Tbsp. Worcestershire Sauce
2 Tbsp. All-Purpose Flour
1/2 cup Stew's Sour Cream
1 Tbsp. chopped fresh Parsley
Directions
Season the stew meat with salt and pepper. In a large sauté pan over medium-high heat, add the oil and 2 Tbsp. of the butter. Heat until oil is hot, and the butter is melted. Add the stew meat and sear on all sides. Cook for about 10 minutes total. With a slotted spoon, transfer the stew meat to a clean plate.

Add remaining butter and onions and cook for about 3 minutes. Add the mushrooms and cook for another 5-8 minutes, stirring occasionally. Add the garlic and cook for about 1 minute. Add the white wine and let mixture cook down for another 8 minutes.

While the mixture cooks down, in a medium bowl, whisk the beef broth, Worcestershire sauce, and flour together until smooth.

Pour into the pan, stir to combine, and let simmer 5 minutes, stirring occasionally. Add the stew meat back into the pan.

Stir in the sour cream. Serve over the egg noodles and sprinkle with the chopped parsley.