Grilled Porterhouse Steak with Garlic and Herb Rub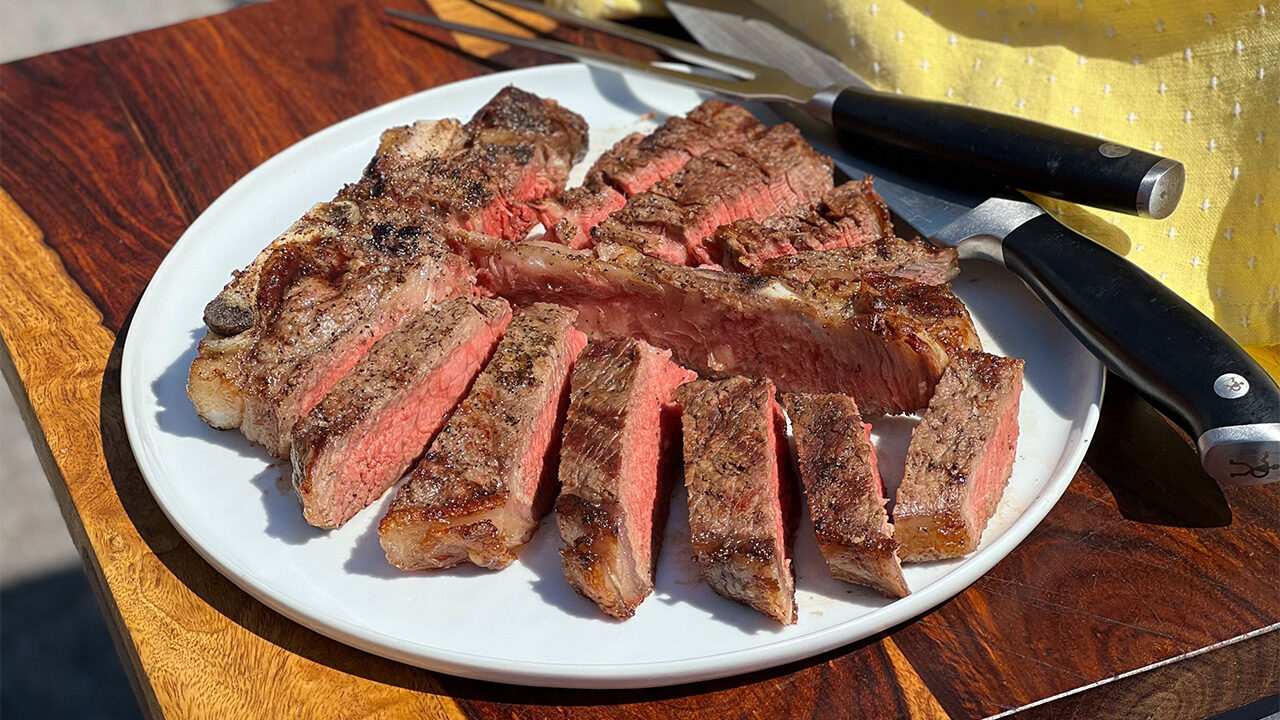 A porterhouse steak offers two cuts in one. The beef cut has filet mignon's buttery, tender texture along with a slightly tougher, but more flavorful strip steak. It's the ideal steak for grilling.
Servings: 1-2 people
Prep Time: 10 minutes
Cooking Time: 15 minutes
Total Time: 25 minutes
Ingredients
1 (2lb.) Stew's Bone-In Beef Porterhouse Steak
1 Tbsp. Stew's 100% Italian Extra Virgin Olive Oil
Stew's Kosher Salt, to taste
Stew's Fine Ground Black Pepper, to taste
1 Tbsp. Stew's Freshly Chopped Garlic or 3 minced Garlic Cloves
1 sprig chopped fresh Rosemary
1 Tbsp. Stew's Unsalted Butter
Directions
Remove the steak from the refrigerator and allow it to come to room temperature for 30 minutes.

Heat a gas grill to medium-high heat (375°F).

Brush both sides of the meat with the olive oil.

Season both sides with plenty of salt and pepper.

Mix the garlic and rosemary together and, using your fingers, press the rub into the meat.

When ready to grill, oil the grill grates. Place the steak on the grill and cook until a deep brown crust forms, about 2-3 minutes per side for medium-rare (130°F – 135°F). Grill time will vary based on the thickness of the steak and temperature of the grill.

Remove the steak from the grill, top with the butter, and let rest on a cutting board for 10 minutes before slicing. Slice the meat against the grain into thin strips for serving.