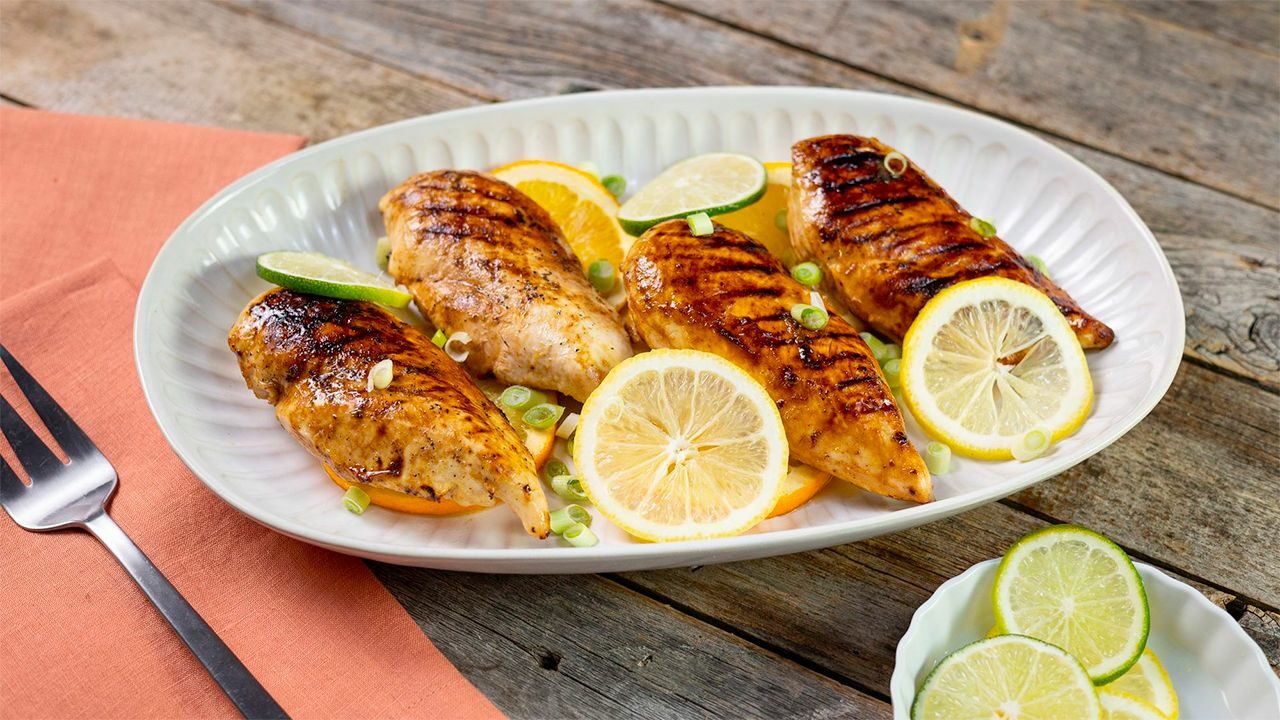 The sweet and tangy marinade in this recipe is a breeze to make and gives ordinary chicken breasts an instant flavor boost. Keep this recipe handy. You'll want to try it on the grill as warm weather approaches.
Servings: 4
Prep Time: 10 minutes
Cooking Time: 40 minutes
Total Time: 50 minutes
Ingredients
4 large Stew Leonard's Naked Boneless Chicken Breasts
1/2 cup Stew's Freshly Squeezed Orange Juice
1/4 cup freshly squeezed Lemon juice
3 Tbsp. Stew's Honey
3 Tbsp. Stew's Extra Virgin Italian Olive Oil
1/2 teaspoon Tabasco Sauce
Stew's Kosher Salt
Stew's Fine Ground Black Pepper
Orange, Lime, and Lemon slices for serving
2 Green Scallions, sliced
Directions
In a large bowl, combine the citrus juices, honey, 2 Tbsp. olive oil, and Tabasco Sauce.

Add the chicken to the citrus mixture and toss to coat. Cover with plastic wrap and place in the refrigerator for 1 hour.

Remove the chicken from the marinade and season one side of each breast with salt and pepper.

Add the remaining olive oil to a grill pan over medium-high heat. Cook the chicken breasts for about 20 minutes, turning occasionally to achieve grill marks. To check for doneness, pierce in the thickest part of the breast with a paring knife. Juices will run clear.

Add the orange, lime, and lemon slices to the platter.
Add the chicken and sprinkle with the scallions.