Honey Ham and Swiss Sliders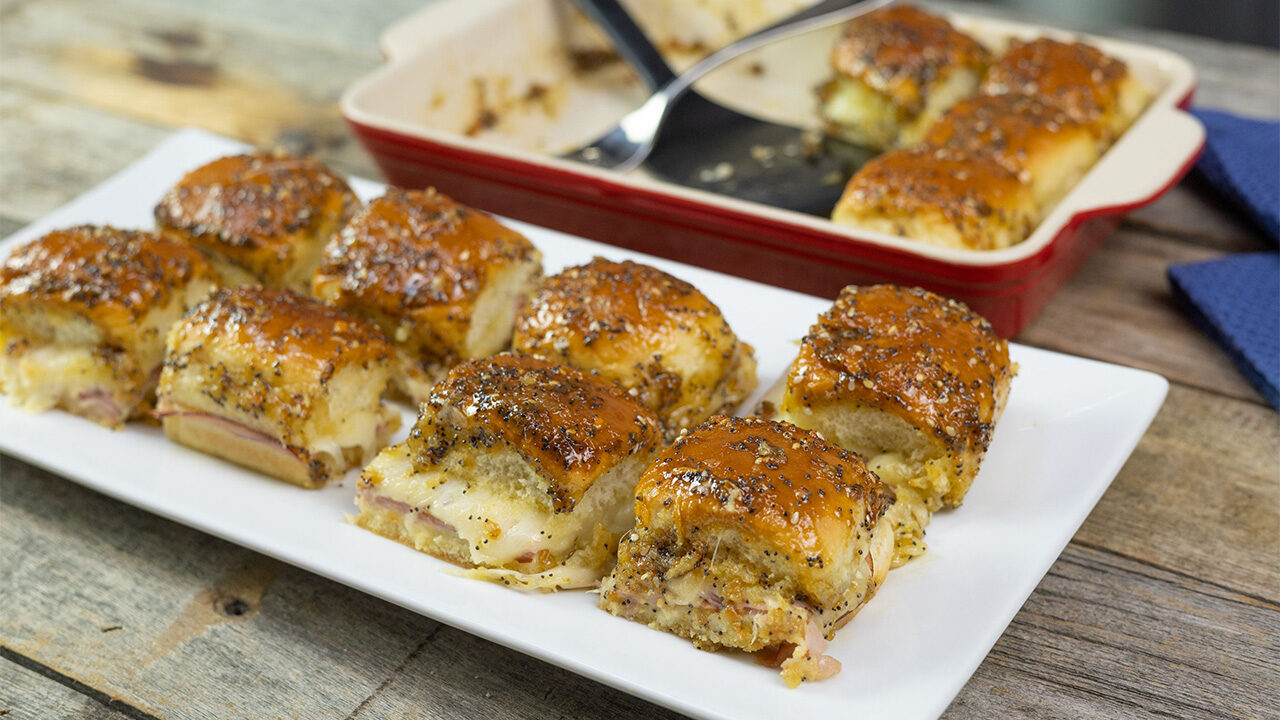 These cheesy and melty ham Swiss sliders made with our own sweet Hawaiian rolls take on a whole different spin when topped with a brown sugar and mustard butter sauce and then baked in the oven.
Servings: Makes 1 dozen sliders
Prep Time: 15 minutes
Cooking Time: 30 minutes
Total Time: 45 minutes
Ingredients
1 Package Stew's Sweet Hawaiian Rolls
1/2 cup Horseradish Sauce
1/2 lb. Stew's Gold Reserve Honey Ham
6-8 slices, Stew's Domestic Swiss Cheese
1/2 up Stew's Salted Butter, cubed
2 Tbsp. packed Brown Sugar
1 Tbsp. Stew's Spicy Brown Deli Mustard
2 teaspoons Stew's Everything Bagel Seasoning
1 1/2 teaspoons Worcestershire Sauce
1/4 teaspoon Stew's Garlic Powder
Directions
Preheat oven to 350°F.

Without separating, cut the rolls in half horizontally.

Place the bottom halves of the rolls in a prepared 9x9-in. baking pan.

Spread the cut side of the roll bottoms with the horseradish sauce.

Evenly layer with the ham and cheese. Place roll tops on top.

In a small skillet over medium-high heat, melt the butter. Stir in the remaining ingredients and heat through.

Pour the butter mixture evenly over the rolls then, cover with aluminum foil.

Bake, covered, for 25 minutes.

Uncover and bake until golden brown, about 5-8 minutes longer.

Slice into individual sliders and serve warm.