Horseradish-Crusted Salmon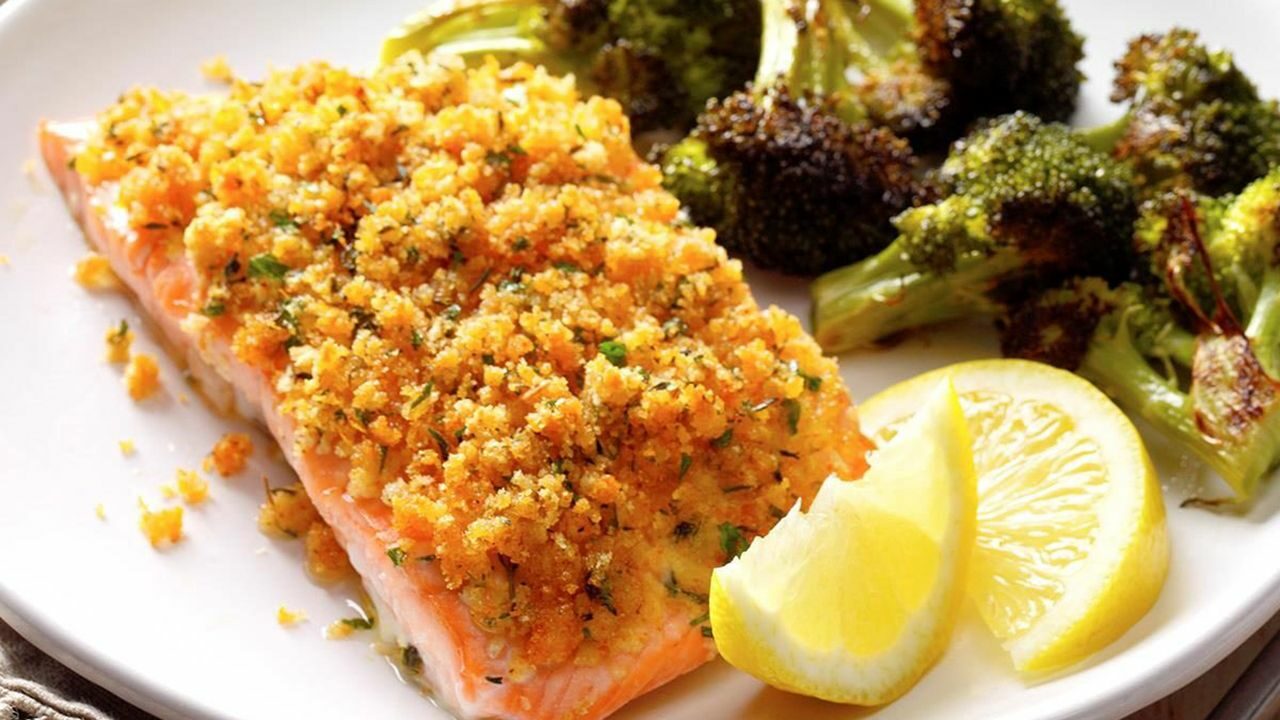 Here's a quick and easy recipe that was Stew Leonard Sr.'s favorite salmon dish. The breadcrumb crust creates a flavorful and crunchy topping for moist and tender baked salmon fillets.
Servings: 4
Prep Time: 15 minutes
Cooking Time: 8 minutes
Total Time: 23 minutes
Ingredients
6 (6 oz.) Stew's Naked Salmon Fillets, skin removed
1 Tbsp. Stew's Salted Butter, softened
3 Tbsp. Mayonnaise
3 Tbsp. Stew's Sour Cream
2 teaspoons fresh Lemon Juice
4 teaspoons prepared Horseradish
2 teaspoons chopped fresh Dill
3/4 cup Panko Breadcrumbs
3 Tbsp. Stew's Salted Butter, melted
1 teaspoon Paprika
1 teaspoon Stew's Kosher Salt
1/2 teaspoon Stew's Fine Ground Black Pepper
Directions
Preheat oven to 400°F.

Grease a baking dish with 1 tablespoon of softened butter.

In a medium bowl, add the mayonnaise, sour cream, lemon juice, prepared horseradish, and chopped dill. Mix well.

In a separate small bowl, add the breadcrumbs, melted butter, and paprika. Mix well.

Season the top of the salmon filets with the salt and pepper.

Spread a thin layer of mayonnaise mixture on top of each fillet.

Top each fillet with a light even coating of the panko crumb topping.

Place the fillets in the baking dish 1-in. apart.

Bake for 6-8 minutes until golden brown.