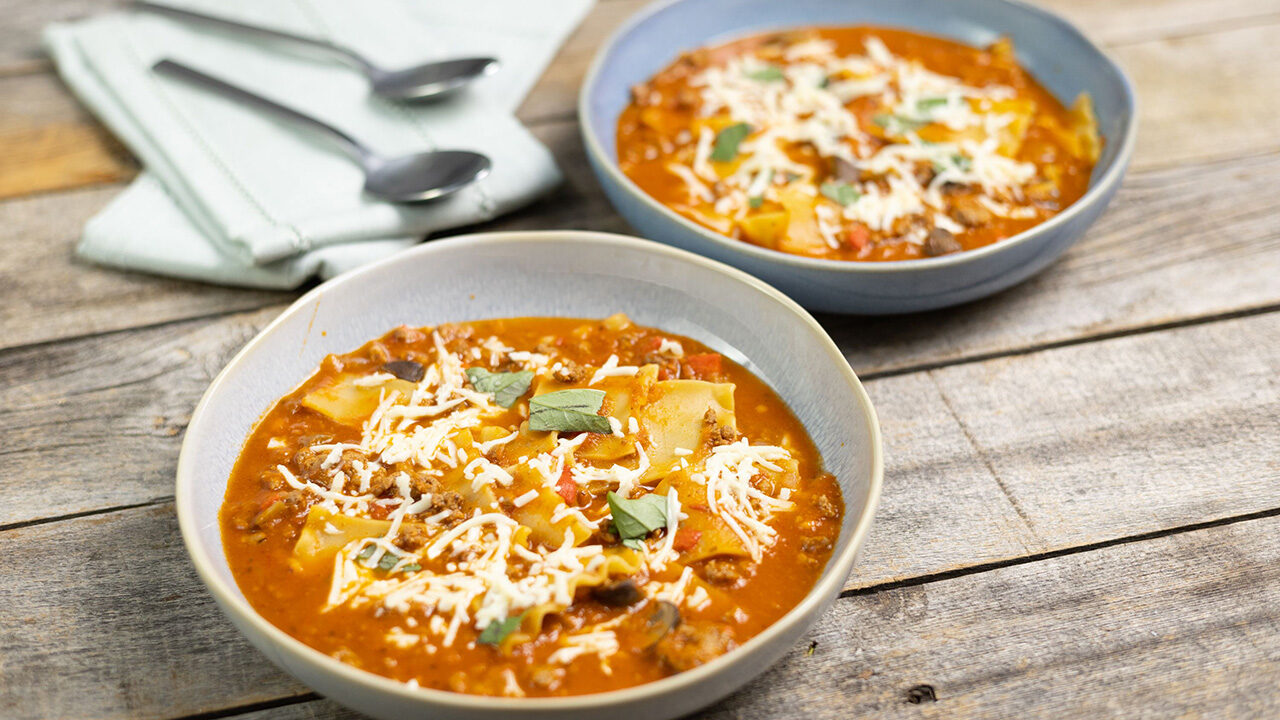 Here's a recipe that has all the flavors of lasagna in this quick and delicious soup. Serve with Stew's Country Italian Bread for a great meal.
Servings: 6
Prep Time: 10 minutes
Cooking Time: 25 minutes
Total Time: 35 minutes
Ingredients
1lb. Stew's Ground Beef Chuck
8oz Baby Portabella Mushrooms, quartered
1 medium red bell pepper, diced
1 medium white onion, diced
1 heaping Tbsp. Stew's Freshly Chopped Garlic
1 (32 oz.) container Stew's Low-Sodium Chicken Broth
1 (14 oz.) can Stew's Local Jersey Crushed Tomatoes
6 oz. Tomato Paste
2 teaspoons Stew's Dried Oregano Leaves
1 teaspoon Stew's Kosher Salt
1/4 teaspoon Stew's Fine Ground Black Pepper
8 oz. Lasagna Noodles, broken into pieces
1/4 cup Stew's Half & Half
Handful fresh Basil leaves, torn, for garnish
1/2 cup Stew's Shredded Mozzarella Cheese
Directions
Set the Instant Pot to sauté and heat for 1-2 minutes. Add the beef and cook until browned for about 5 minutes.

Stir in the mushrooms, onion, bell pepper, and garlic. Then stir in the broth, canned tomatoes, tomato paste, oregano, salt, and pepper.

Cover with lid, turn lid valve to seal, and set to high pressure for 10 minutes. The Instant Pot will take about 15 minutes to reach high pressure.

Release the valve and wait until steam stops. Open the lid and set to sauté. Bring the mixture to a full boil and add the lasagna noodles. Cook, stirring often, until the noodles are tender, about 9 minutes.

Turn off the Instant Pot and stir in the half and half. Ladle the soup evenly into bowls and top with the fresh basil and mozzarella.