Loaded Cheesy Sweet Potato Skins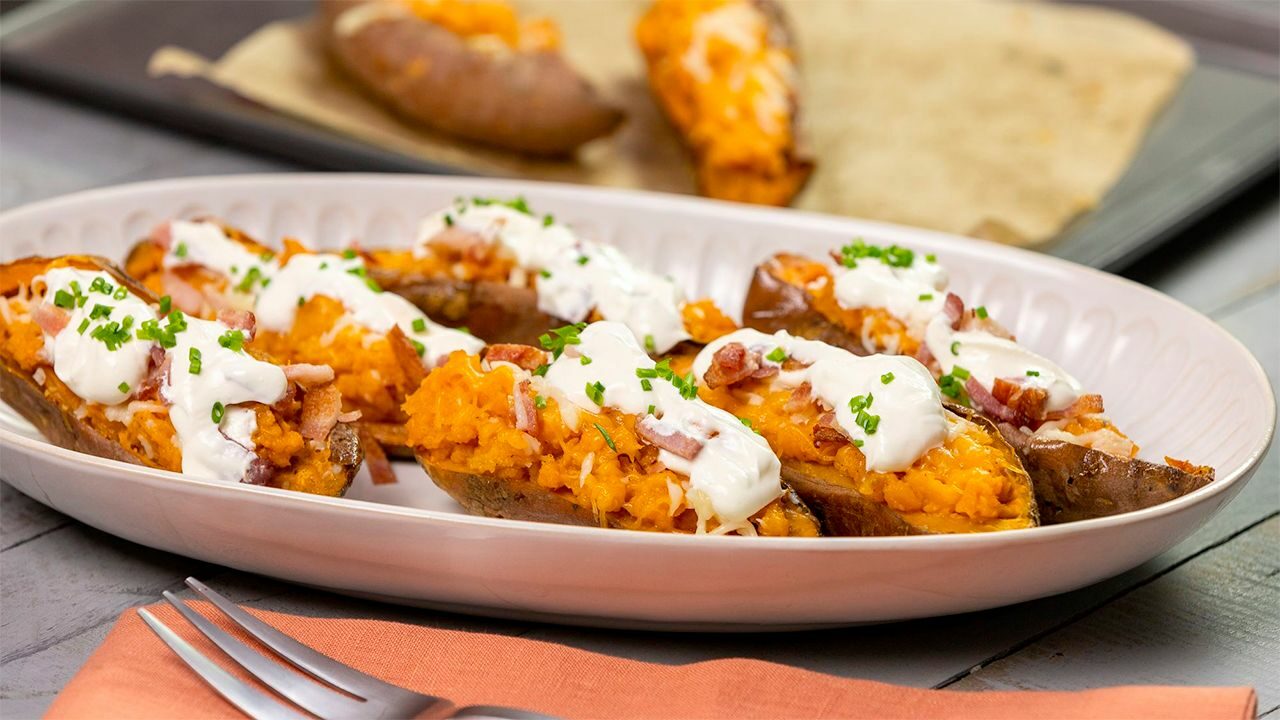 Here's a great go-to appetizer or side that's perfect for entertaining or to add to your homecooked meal.
Servings: 8
Prep Time: 10 minutes
Cooking Time: 1 hr.
Total Time: 1 hr. 10 minutes
Ingredients
4 medium Sweet Potatoes
1 Tbsp. Stew's Avocado Oil
1/2 cup Stew's 2% Milk
1/4 teaspoon Stew's Kosher Salt
1/4 teaspoon Stew's Fine Ground Black Pepper, to taste
1/2 cup Stew's Shredded Sharp Cheddar Cheese
1/2 cup Stew's Shredded Mozzarella Cheese
4 strips Stew's Sliced Premium Bacon, cooked and chopped
Stew's Sour Cream, for serving
Chopped Chives, for garnish
Directions
Preheat oven to 400°F.

Line a baking sheet with parchment paper.

Pierce each sweet potato a few times with a fork and bake for 40-50 minutes or until soft.

Let potatoes cool slightly then slice in half lengthwise.

Reduce oven temperature to 375°F.

Scoop out most of the potato flesh for each half, leaving a thin layer of sweet potato inside, into a medium bowl.

Place the potato halves on the baking sheet, face side up.

Drizzle with the avocado oil and bake for 10 minutes.

Mash the sweet potato flesh with the milk, salt, and pepper until smooth.

Fill each evenly with the potato mixture and top with the cheeses.

Bake for 10 minutes or until cheese is melted.

Remove from the oven and top with the bacon. Serve with sour cream and sprinkle with the chives.