Marinated and Grilled Beef Short Ribs with Cilantro and Lemon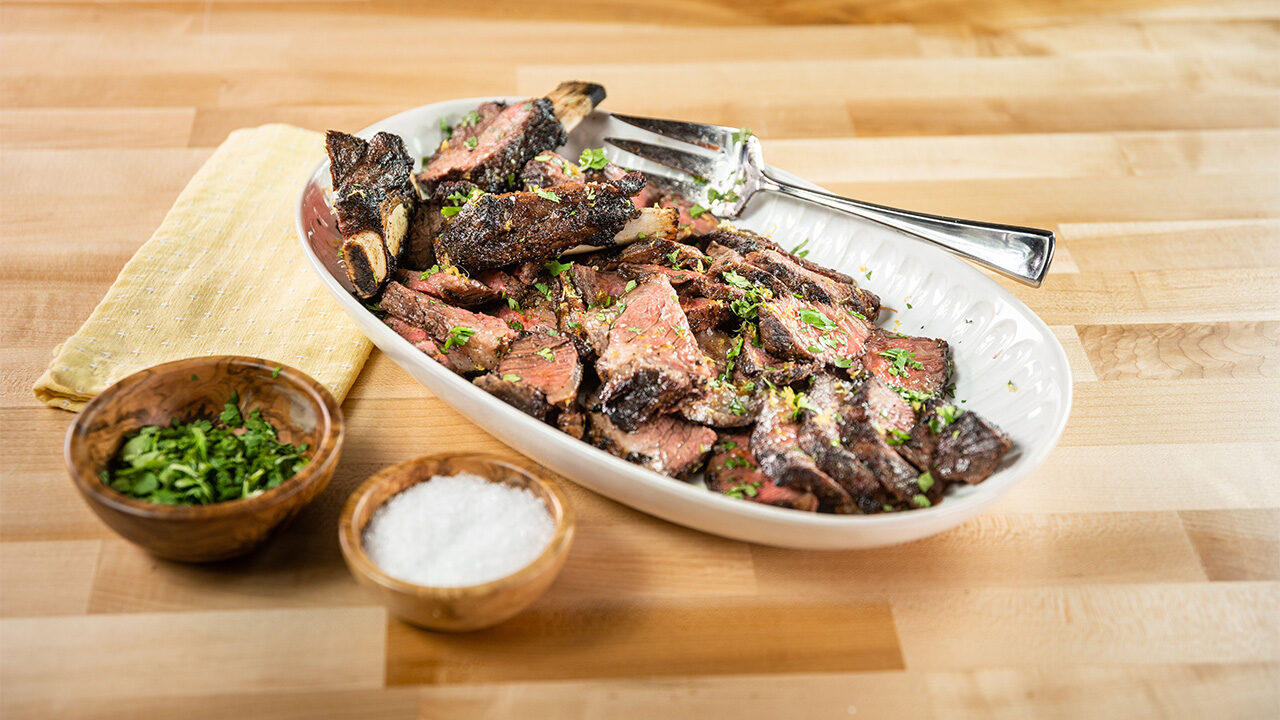 Meaty bone-in beef short ribs get perfectly tender on the grill. Thinly sliced and garnished with lemon zest and chopped fresh cilantro, they'll be right at home on your dinner plate.
Servings: 3-4
Prep Time: 1 hr. 5 minutes
Cooking Time: 40 minutes
Total Time: 1 hr. 45 minutes
Ingredients
6 Stew's Bone-In Beef Short Ribs
Stew's Kosher Salt, to taste
Stew's Fine Ground Black Pepper, to taste
1 medium sweet Vidalia Onion, roughly sliced
1/3 cup fresh Lime juice
3/4 cup Stew's Fresh Squeezed Orange Juice
1/3 cup Stew's 100% Italian Extra Virgin Olive Oil
1/2 cup chopped fresh flat-leaf cilantro, plus more for garnish
1 teaspoon finely grated Lemon zest
Stew's Sea Salt, to taste
Directions
Season ribs with salt and pepper. Place in shallow baking dish with onion, lime juice, orange juice, oil, and chopped cilantro.

Cover and chill in the refrigerator for 1 hour.

With cover closed, preheat 1 side of grill to medium-high heat (400 - 450°F.) Keep the other side of the burners off to use for indirect heat cooking.

Remove ribs from the marinade and grill over direct heat, turning occasionally, until charred on all sides, about 15 – 20 minutes.

Move the ribs to the indirect heat side of the grill and cook for another 5- 10 minutes. Transfer to a cutting board and let rest for 10 minutes.

Cut the meat from the bone and thinly slice the meat. Garnish with the lemon zest and remaining cilantro. Sprinkle with sea salt.