One-Pan Juicy Roast Pork Tenderloin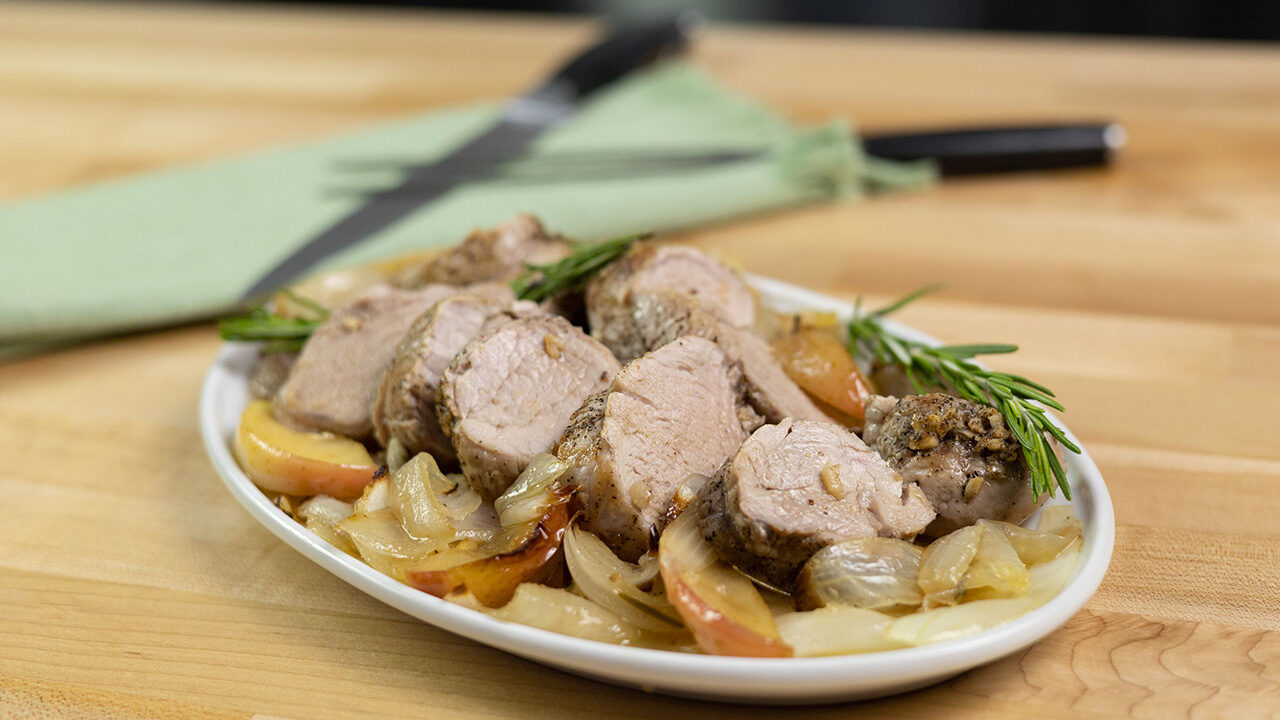 Great for a Sunday dinner or even a weeknight, this one pan recipe for roast pork tenderloin comes together in a quick pan sauce made with fresh apple slices, rosemary, and maple syrup.
Servings: 4-6
Prep Time: 15 minutes
Cooking Time: 38 minutes
Total Time: 54 minutes
Ingredients
1 1/2 lb. Stew's Boneless Pork Tenderloin
2 Tbsp. Stew's Freshly Chopped Garlic
1 teaspoon Stew's Kosher Salt
1/2 teaspoon Stew's Fine Ground Black Pepper
2 Tbsp. Stew's Extra Virgin Italian Olive Oil
2 Tbsp. Stew's Unsalted Butter
1 large Onion, cut into wedges
2 medium Honeycrisp Apples, quartered
2 fresh Rosemary sprigs
1/4 cup Stew's Maple Syrup
Directions
Preheat oven to 400°F.

On a work surface, sprinkle the chopped garlic with the Kosher salt and pepper. Use your knife to flatten and mash the garlic into a paste.

Rub the garlic paste evenly all over the sides of the meat.

Heat the oil in a 10- to 12-inch straight sided oven-safe skillet or cast-iron pan over medium heat until oil is shimmering.

Add the pork and sear until golden brown on all sides, about 2 minutes per side. Reserve on a clean plate or platter.

Add the butter, onion, apples, and rosemary to the pan. Stir and turn off the heat. Stir in the maple syrup.

Return the pork with any juices to the pan. Roast for 30-35 minutes or until an instant-read thermometer inserted into the thickest part of the meat reads 145°F. Let rest for 10 minutes before slicing.

Arrange the pork slices on a platter with the apple, onion, and pan juices.