One-Pan Mini Gnocchi with Shrimp and Asparagus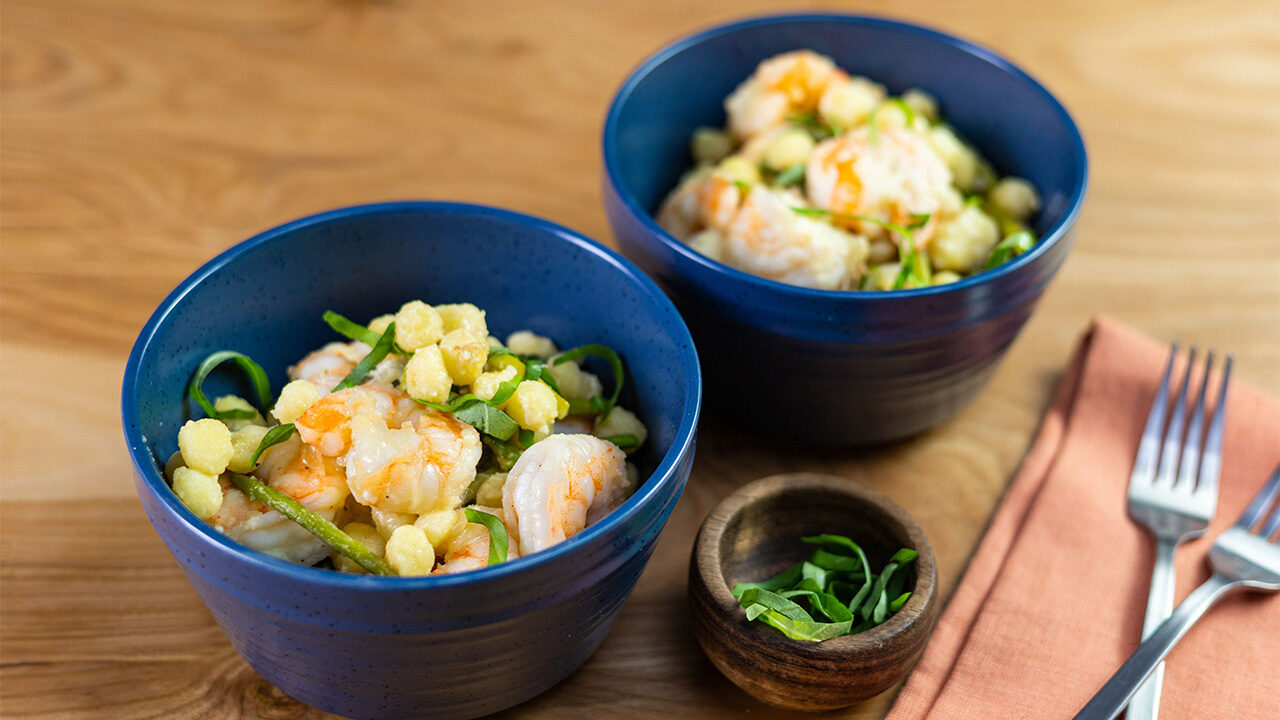 Create a quick and healthy dinner in a matter of minutes. It's ideal for weeknights without a lot of clean up afterwards.
Servings: 4
Prep Time: 8 minutes
Cooking Time: 18 minutes
Total Time: 25 minutes
Ingredients
1 Tbsp. plus 2 teaspoons Stew's 100% Italian Extra-Virgin Olive Oil
1 Tbsp. Stew's Unsalted Butter
One 17.6 oz. package Pastificio G. Di Martino Mini Gnocchi
1 small thinly sliced Onion
3/4 cup Stew's Organic Chicken Broth
1 bunch fresh Asparagus, trimmed cut into thirds
1 lb. Stew's Peeled and Deveined Jumbo or Colossal Raw Shrimp
1/2 teaspoon Stew's Kosher Salt
1/4 teaspoon Stew's Fine Ground Black Pepper
2 Tbsp. fresh squeezed Lemon juice (1 regular-sized lemon)
1/3 cup Stew's Fresh Grated Parmigiano Reggiano
Sliced fresh Basil leaves, far garnish
Directions
In a large deep-sided non-stick skillet over medium heat, add 1 Tbsp. of the olive oil. Add the gnocchi and butter and cook, stirring often, about 4 minutes. Raise heat to medium high and cook for another 2 minutes until desired browning. Remove to a bowl.

Add the remaining oil to the pan and the onion. Cook for about 1 – 2 minutes. Stir in the chicken broth and add the asparagus. Cover and cook until the asparagus are slightly tender, about 4 minutes.

Add the shrimp, salt, and pepper. Cover and simmer until shrimp are pink and just cooked through, about 3-4 minutes.

Return the gnocchi to the pan and stir in the lemon juice. Cook, stirring, about 2 minutes.

Sprinkle with the cheese. Cover and let stand off heat just until cheese is melted. Sprinkle with the fresh basil before serving.