One-Pot Penne Primavera With Shrimp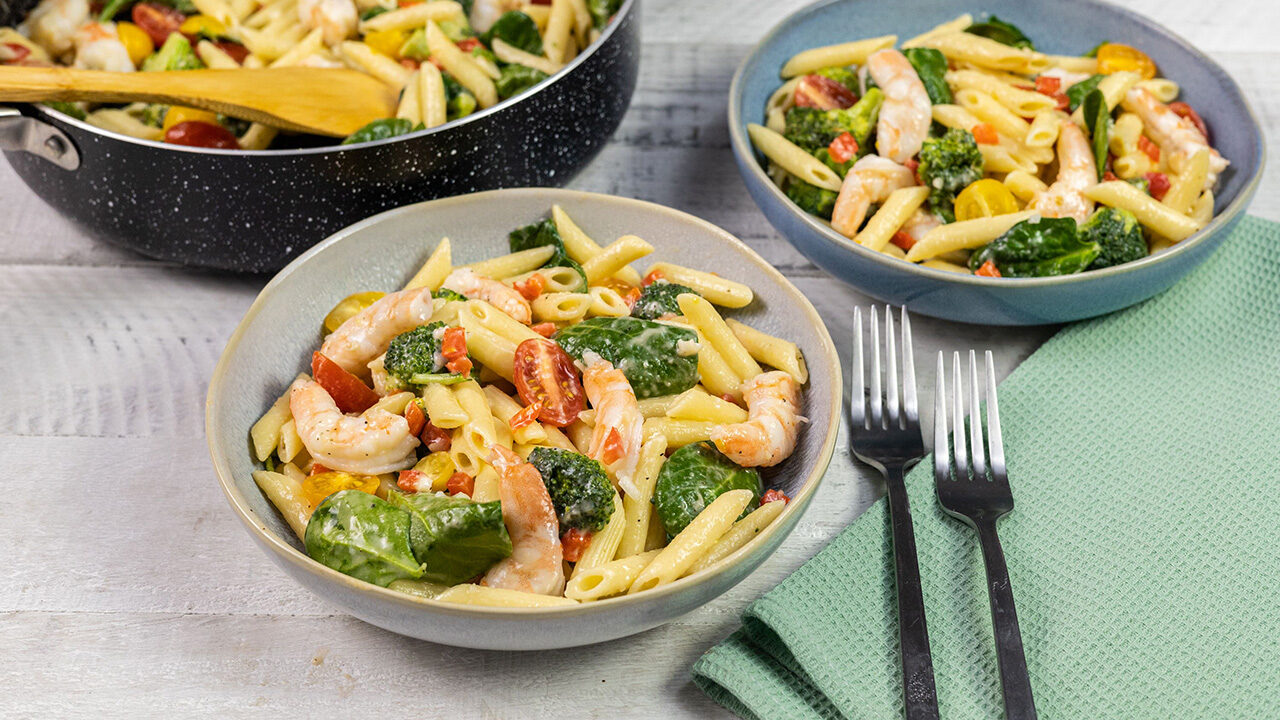 Your pasta dinner doesn't get much easier when all ingredients come together harmoniously in a straight-sided skillet. Reggiano is stirred in gradually to create a cheesy and simple sauce that coats the pasta and adds great flavor to the shrimp and vegetables.
Servings: 4
Prep Time: 10 minutes
Cooking Time: 20 minutes
Total Time: 30 minutes
Ingredients
4 cups of Water
8 oz. Stew's Organic Italian Penne Pasta
1 Tbsp. Stew's Freshly Chopped Garlic
2 cups Broccoli Florets
1 small Red Pepper, diced
1/2 teaspoon Stew's Kosher Salt
1/2 teaspoon Stew's Fine Ground Black Pepper
2/3 cup Stew's Imported Freshly Grated Parmigiano Reggiano
12 oz. (12-15) Stew's Colossal EZ Peel Raw Shrimp, each cut in half
4 cups Stew's Organic Baby Spinach
1 cup Grape or Cherry Tomatoes, halved
Directions
Combine the water, pasta, and garlic in a large, straight-sided skillet. Bring to a boil over medium-high heat.

Reduce to a gentle boil and cook, stirring frequently, for 8 minutes.

Add the broccoli, red pepper, salt, and pepper, and cook until the vegetables and pasta are tender, stirring frequently, for about 5 minutes more.

Reduce heat to low and add the cheese a bit at a time, tossing the pasta mixture after each addition until well coated.

Stir in the shrimp and spinach and cook, tossing constantly, until the spinach is wilted, and shrimp is cooked through, about 5 minutes.

Off heat, stir in the tomatoes. Serve immediately.