Overnight Cinnamon French Toast Casserole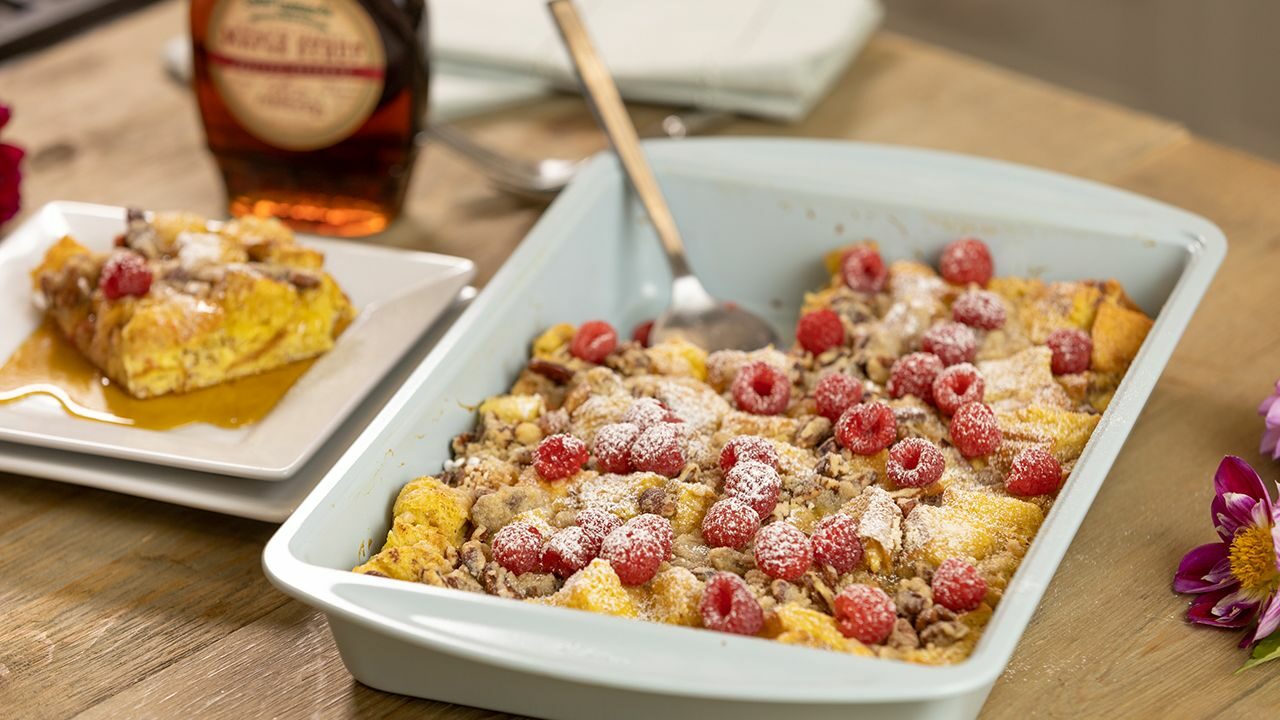 Instead of standing over a stove cooking by the slice, why not try this crowd pleaser for overnight French toast? Made with buttery brioche bread and lots of eggs, it puffs up golden in the oven and is the perfect foil for a streusel topping and a big glug of Stew's Maple Syrup.
Servings: 8 to 10
Prep Time: 15 minutes
Cooking Time: 50 minutes
Total Time: 65 minutes
Ingredients
4 Tbsp. Stew's Unsalted Butter, cold and cubed
1 loaf Brioche Bread
8 Stew's Organic Large Brown Eggs
3 cups Stew's Half & Half
3/4 cup packed Light Brown Sugar, divided
1 Tbsp. Vanilla Extract
1 Tsp. Stew's Ground Cinnamon
3/4 Tsp. Stew's Kosher Salt, divided
1/2 Tsp. Stew's Ground Nutmeg, divided
1/2 cup Stew's Chopped Pecans
1/4 cup All Purpose Flour
Stew's Maple Syrup, for serving
Confectioners Sugar, for serving
Fresh Raspberries, for serving
Directions
Spray a 9x13-in. baking dish with cooking spray.

Tear the brioche bread slices into bite-sized pieces. Arrange in an even layer in the baking dish.

Whisk the eggs, half & half, brown sugar, vanilla extract, cinnamon, ½ teaspoon of salt, and ¼ teaspoon of the ground nutmeg together in a large bowl until well-combined.

Pour the mixture evenly over the bread. Press bread down gently into the custard. Cover with plastic wrap and place in the refrigerator overnight.

To make the topping, toss together the chopped nuts, flour, remaining salt, and ground nutmeg. Cut in the butter until the mixture forms small clumps. Cover and refrigerate until ready to bake.

When ready to bake, preheat oven to 350°F. Take the casserole and crumb topping out of the refrigerator while the oven preheats.

Sprinkle the crumb mixture over the casserole. Bake until golden brown and set, about 45 – 50 minutes.

Drizzle with maple syrup, dust with Confectioner's sugar, and top with fresh raspberries before serving.