Parmesan-Herb Crusted Chicken with Squash and Heirloom Tomato Salad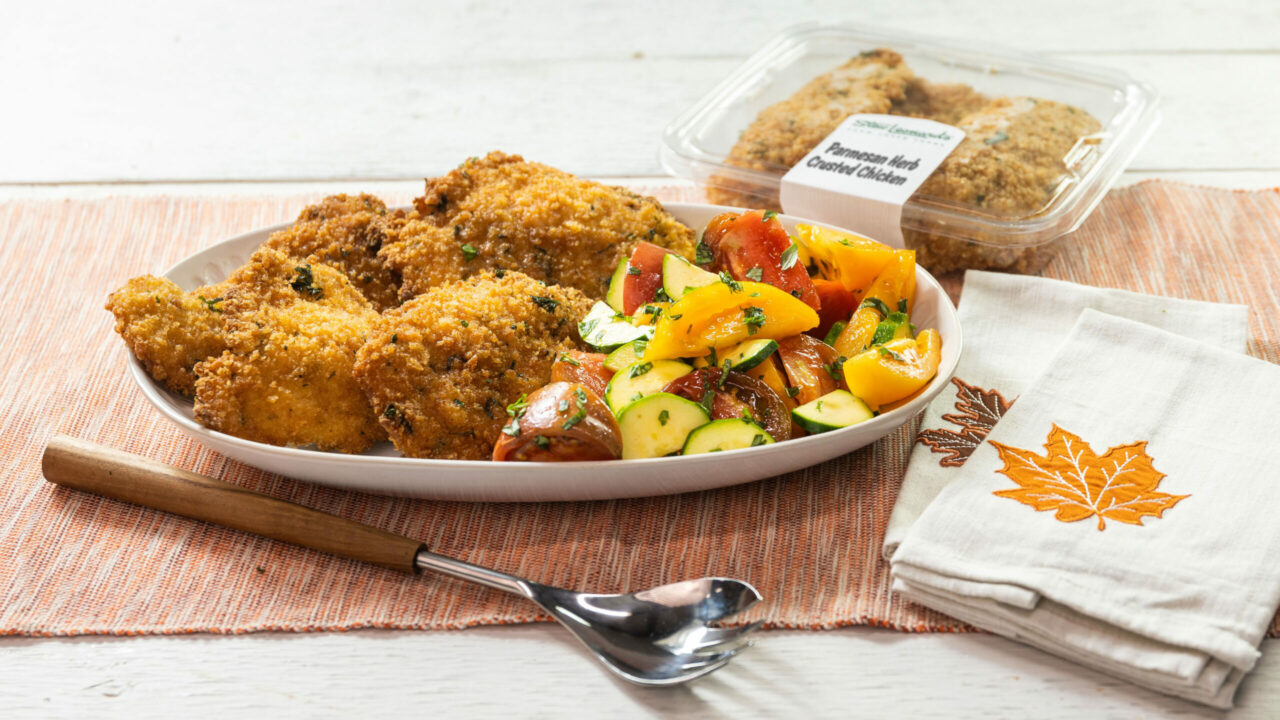 Our freshly prepared classic chicken cutlets coated with imported Parmesan Cheese and Panko Breadcrumbs are the perfect (and crunchy!) choice to complete an entire meal in about 20 minutes. Paired with a bright and crisp heirloom tomato salad for a simple feast, this dish will be a hit at your dinner table any night of the week.
Servings: 4
Prep Time: 7 minutes
Cooking Time: 3 minutes
Total Time: 10 minutes
Ingredients
4 Stew's Parmesan-Herb Crusted Chicken Cutlets
3 large Heirloom Tomatoes, cut into wedges
1 large Green Squash, halved lengthwise and sliced
1/4 cup Apple Cider Vinegar
1/4 cup Stew's 100% Mediterranean Extra-Virgin Olive Oil
Stew's Kosher Salt, to taste
Stew's Fine Ground Black Pepper, to taste
1 Tbsp. minced fresh Basil
Directions
Place the chicken cutlets on a microwavable dish and microwave on High for 3 minutes or until warmed through.

While the chicken is warming, make the dressing. In a small bowl, whisk together the apple cider vinegar and olive oil. Season to taste with salt and pepper. Stir in the basil.

In a large bowl, combine the tomatoes and squash. Add the dressing and toss to combine.

Serve the squash and heirloom tomato salad with the Parmesan-Herb Crusted Chicken.