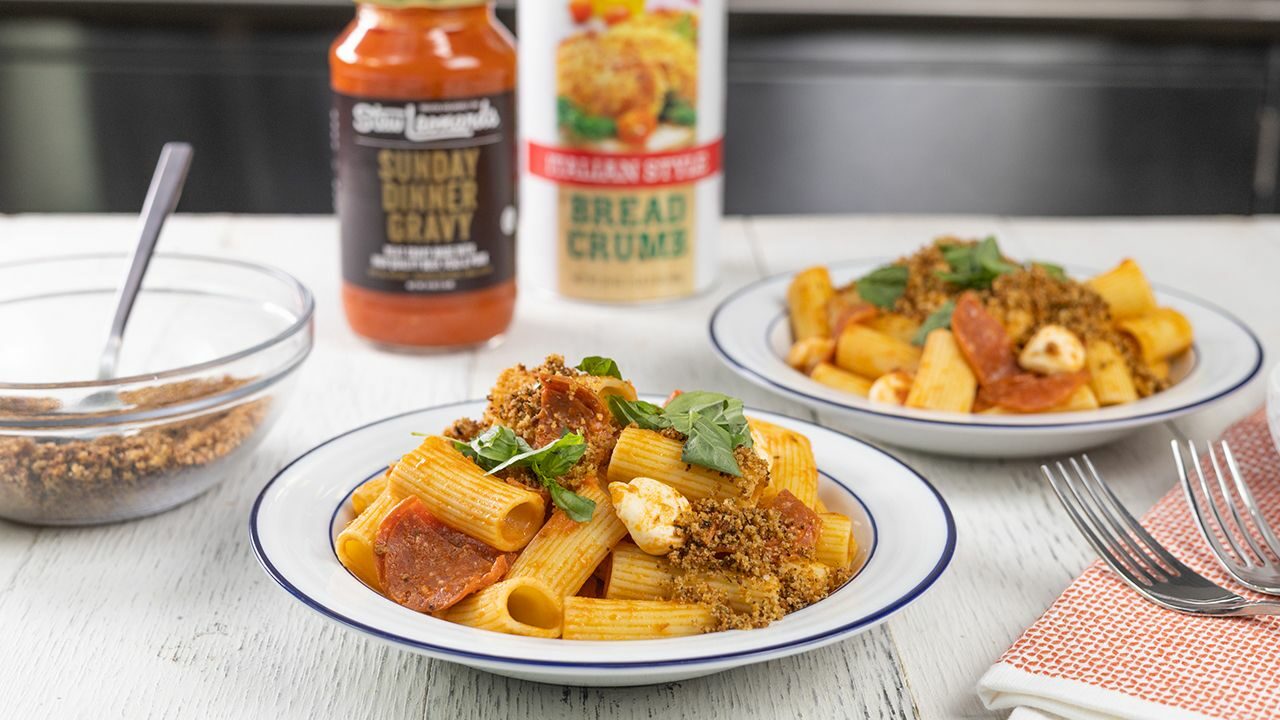 When you're looking in your pantry for comfort food ideas, nothing fits the bill like pasta with a great jarred sauce. Spice it up with a topping of toasted and buttery breadcrumbs with red pepper flakes for an easy and delicious weeknight dinner.
Servings: 4
Prep Time: 5 minutes
Cooking Time: 30 minutes
Total Time: 35 minutes
Ingredients
2 Tbsp. Stew's Salted Butter, melted
1/2 cup Stew's Italian Style Breadcrumbs
Pinch of Stew's Crushed Red Pepper Flakes
Pinch of Stew's Kosher Salt
Pinch of Stew's Fine Ground Black Pepper
16 oz. Stew's Dried Rigatoni
1-1/2 cups Stew's Sunday Dinner Gravy
Pinch of Stew's Dried Oregano
4 oz. sliced Stew's Pepperoni, sliced in half
8 oz. Ciliegine Mozzarella Balls, halved
1 small bunch Fresh Basil, torn
Directions
Add the pasta to salted boiling water and cook according to package instructions.

While the pasta is cooking, make the breadcrumb topping by melting the butter in a small sauté pan over low heat. Add the breadcrumbs, red pepper flakes, and a pinch of salt and pepper. Cook, stirring, until the breadcrumbs are toasted and lightly browned, about 3 minutes.

Drain the pasta and return to the warm pan. Stir in the tomato sauce, oregano, pepperoni, and mozzarella.

Divide the pasta between bowls and garnish with the breadcrumb topping and basil.