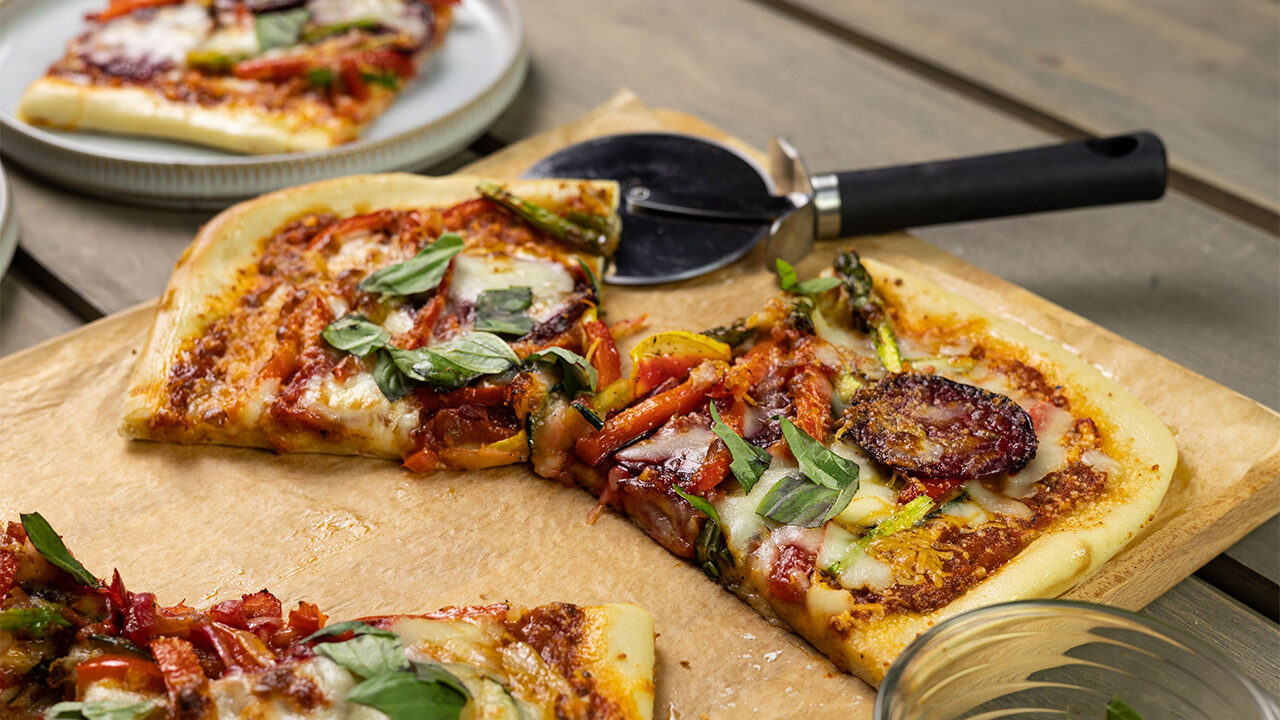 For an extra crispy crust, pre-bake the rolled out pizza dough in a 400°F oven for 5-6 minutes. Let cool slightly before adding the sauce and vegetables then finish baking.
Servings: 4-6
Prep Time: 24 minutes
Cooking Time: 36 minutes
Total Time: 1 hour
Ingredients
1 package Stew's Pizza Dough
1 Red Pepper, sliced
1 small Zucchini, sliced (green or yellow)
1 small Onion, thinly sliced (optional)
Pinch of Stew's Kosher Salt
Pinch of Stew's Fine Ground Black Pepper
2 Tablespoons of Stew's 100% Italian Extra Virgin Olive Oil
8 oz. Stew's Simply Marinara
1 Tbsp. Stew's Freshly Chopped Garlic
1 teaspoon Stew's Dried Oregano
2 oz. Stew's Grated Sharp Cheddar Cheese
2 oz. Stew's Shredded Mozzarella Cheese
2 oz. Stew's Grated Parmigiano Reggiano
2 Tbsp. fresh Basil, torn
Directions
Preheat oven to 375°F.

Place the pepper, zucchini, onion, asparagus, and beet slices (if using) on a baking sheet. Sprinkle with salt and pepper, drizzle with the olive oil, and toss to coat.

Roast the vegetables in the oven until tender, about 15 – 18 minutes. Remove from oven and let cool slightly.

Increase oven temperature to 400°F.

In a medium size bowl, combine the marinara sauce, garlic, red pepper flakes, and oregano.

Roll out the dough and place onto a prepared baking sheet.

Spread with an even layer of the sauce and top with the vegetable mixture, Cheddar, mozzarella and Parmesan. Bake until cheeses are melted and golden, about 18 minutes. Sprinkle with the fresh basil while pizza is still warm.