Seared Bay Scallops with Garlic-Butter Rice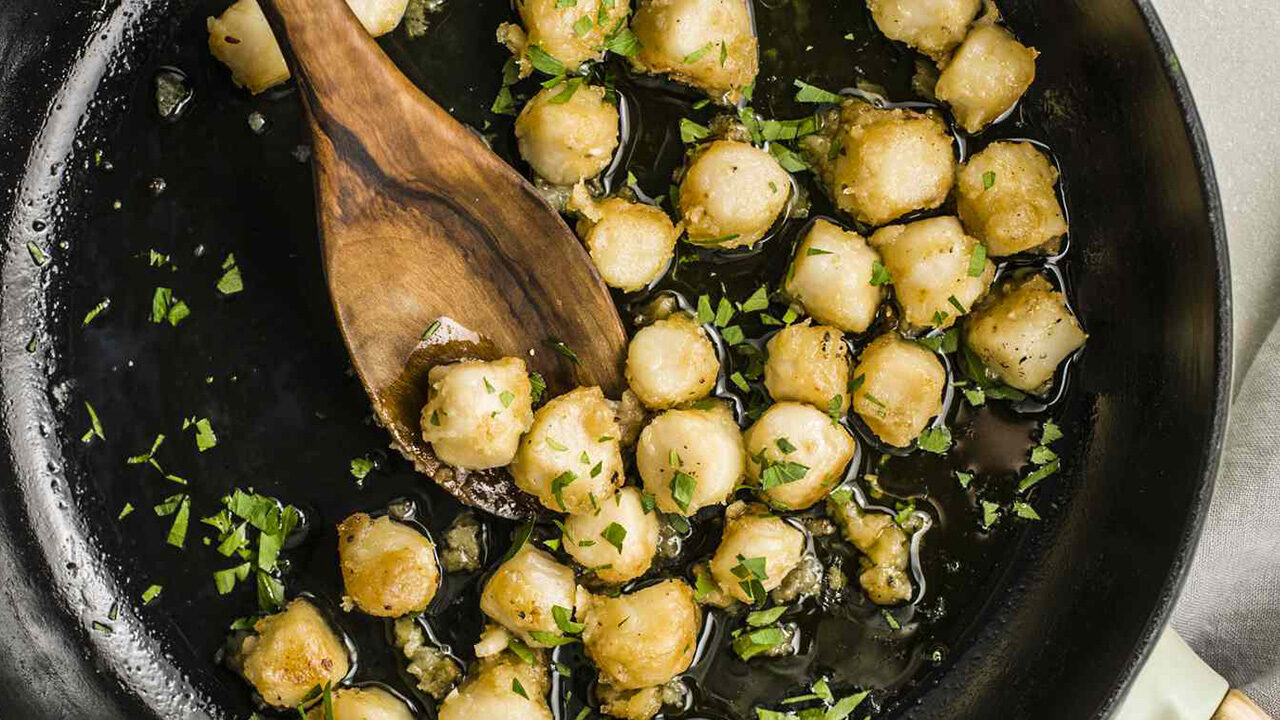 Here's a super simple dish that lets the fresh and light flavor of scallops shine right through. Serve over garlicy rice for an easy and delicious meal.
Servings: 4
Prep Time: 14 minutes
Cooking Time: 50 minutes
Total Time: 1 hour 5 minutes
Ingredients
1 lb. Stew's Bay Scallops, rinsed and patted dry
2 Tbsp. Vegetable Oil
1/4 small Onion, diced
1 1/2 cups uncooked Long Grain Rice
1 Tbsp. Stew's Chopped Garlic, divided
2 1/2 cups Stew's Low Sodium Chicken Broth
1/2 teaspoon Stew's Kosher Salt
1/2 teaspoon Stew's Fine Ground Black Pepper
2 Tbsp. Stew's Unsalted Butter
1 Tbsp. chopped Fresh Basil
Lemon wedges, for serving
Directions
In a medium saucepan, heat oil over medium heat. Add onions and sauté for about 2 minutes until translucent.

Add rice and continue sautéing. Stir frequently for about 5 minutes or until golden brown.

Add half of the garlic and sauté for another minute.

Add the chicken broth and bring to a boil.

Let simmer for 20 minutes, covered. After 20 minutes, remove from heat and let sit, covered, for about 10 minutes.

While rice is finishing cooking off heat, season scallops with salt and pepper.

Heat the butter in a large skillet over medium-high heat. Add remaining garlic and sauté for about 30 seconds.

Add scallops and cook for 3 minutes, shaking pan occasionally. Remove from heat, cover, and let stand 1 minute. Sprinkle cooked scallops with half of the fresh basil.

Place scallops on top of rice and sprinkle with remaining fresh basil. Squeeze over lemon juice, if desired.