Sheet-Pan Herb & Lemon Cod Fillets with Buttery Potatoes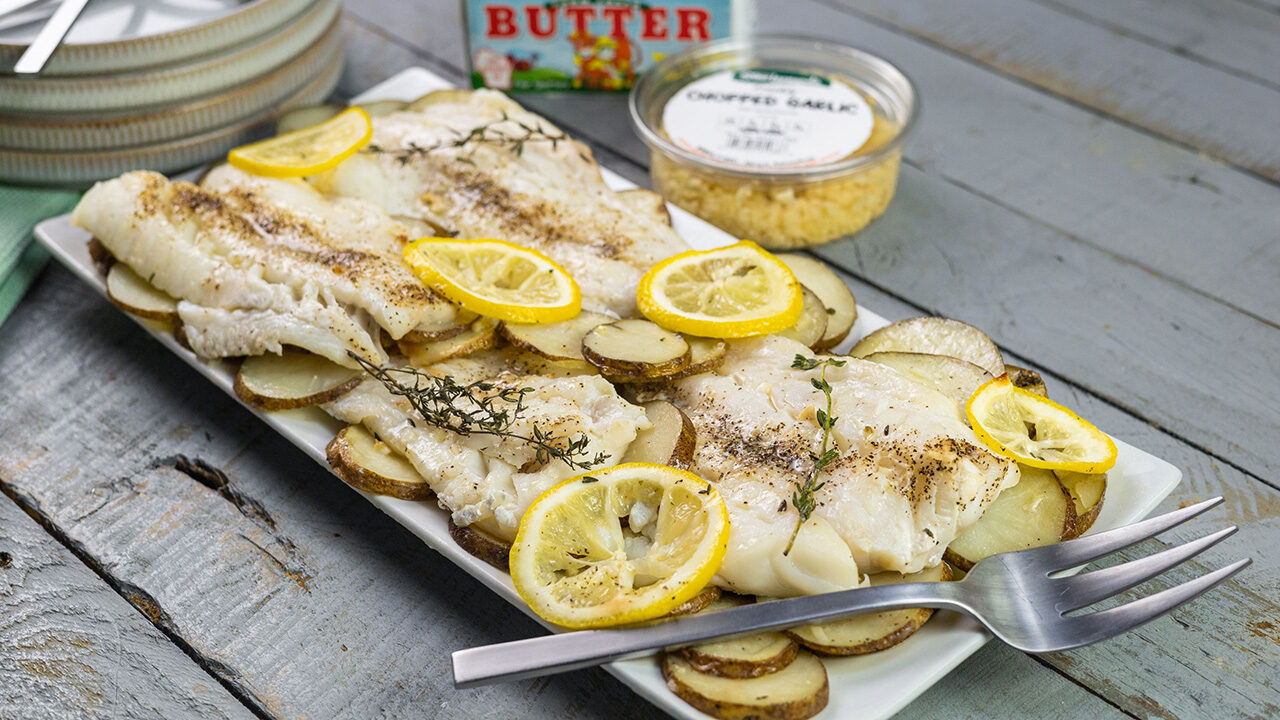 Sliced, tossed in melted butter, and tossed with herbs and garlic, simple russet potatoes also act as a flavorful bed for the cod fillets while being roasted.
Servings: 4
Prep Time: 10 minutes
Cooking Time: 50 minutes
Total Time: 60 minutes
Ingredients
4 (6 to 8 oz.) skinless Cod Fillets
1-1/2 lbs. Russet Potatoes, sliced into 1/4 inch rounds
2 Tbsp. Stew's Unsalted Butter, melted
3 Tbsp. Stew's Unsalted Butter, cubed
1 Tbsp. Stew's Freshly Chopped Garlic
3 sprigs fresh Thyme, plus 1 teaspoon minced
Stew's Kosher Salt
Stew's Fine Ground Black Pepper
1 Lemon, thinly sliced
Directions
Preheat oven to 425°F.

In a large bowl, toss the potatoes with the melted butter, garlic, and the minced thyme. Season with salt and pepper.

Layer the potato slices on a rimmed baking sheet that's been lightly sprayed with cooking spray.

Roast until lightly browned on the edges and just tender, about 30 – 35 minutes.

Pat the cod fillets dry with paper towels and season lightly with salt and pepper.

Lay the cod fillets, skinned side down, over the potatoes and top with the cubed butter, thyme sprigs and lemon slices.

Bake until the fish flakes apart easily with a fork, about 15 minutes.