Short Ribs Braised in Red Wine and Herbs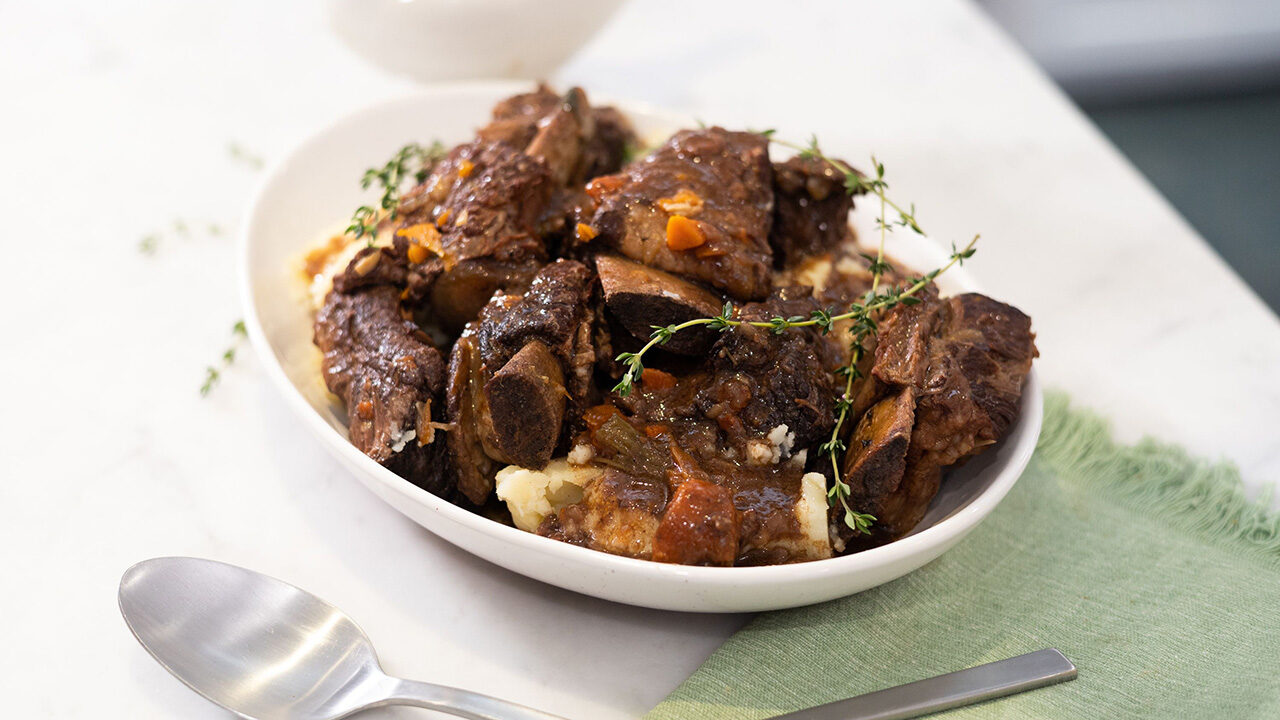 A slow braise in a Dutch oven is the way to go for great meaty short ribs. They'll come out so tender and juicy that the meat will fall right off the bone.
Servings: 4-6
Prep Time: 20 minutes
Cooking Time: 3 hours
Total Time: 3 hours and 20 minutes
Ingredients
6 lbs. Stew's Bone-In Beef Short Ribs
Stew's Kosher Salt
Stew's Ground Black Pepper
3 Tbsp. Vegetable Oil
1 large Onion, chopped
3 medium Carrots, peeled and chopped
2 Celery stalks, chopped
3 Tbsp. all-purpose Flour
1 Tbsp. Tomato Paste
1 (750 ml) bottle Red Wine
3 or 4 Thyme sprigs
3 or 4 Rosemary sprigs
2 dried Stew's Bay Leaves
1 head of Garlic, halved
4 cups Stew's Low-Sodium Beef Broth
Directions
Preheat oven to 350°F.

Season short ribs with salt and pepper. Heat oil in a large Dutch oven over medium-high heat. Working in batches, brown short ribs on all sides, about 8 minutes per batch.

Transfer short ribs to a plate. Pour off all but 3 tablespoons drippings from the Dutch oven.

Add the onions, carrots, and celery to the Dutch oven and cook over medium-high heat, stirring often. Cook until onions are browned, about 5 minutes.

Add the flour and tomato paste and cook, stirring constantly, about 2-3 minutes.


Stir in the wine, then add the short ribs back into the pot along with their juices from the plate.


Bring to a boil, then lower the heat to medium and simmer for about 25 minutes.


Add the thyme, rosemary, bay leaves, and garlic to the pot. Stir in the broth and bring to a boil.


Cover and transfer to the oven.


Cook until the ribs are tender for 2½ - 3 hours. Ribs are done when you pull on a bone and it slides out easily.


Transfer ribs to a platter.


Spoon off the fat from the surface of the sauce and discard. Discard herbs and bay leaves. Season the sauce with salt and pepper and serve over the short ribs.