Slow-Cooker Beef Chuck Pot Roast with Vegetables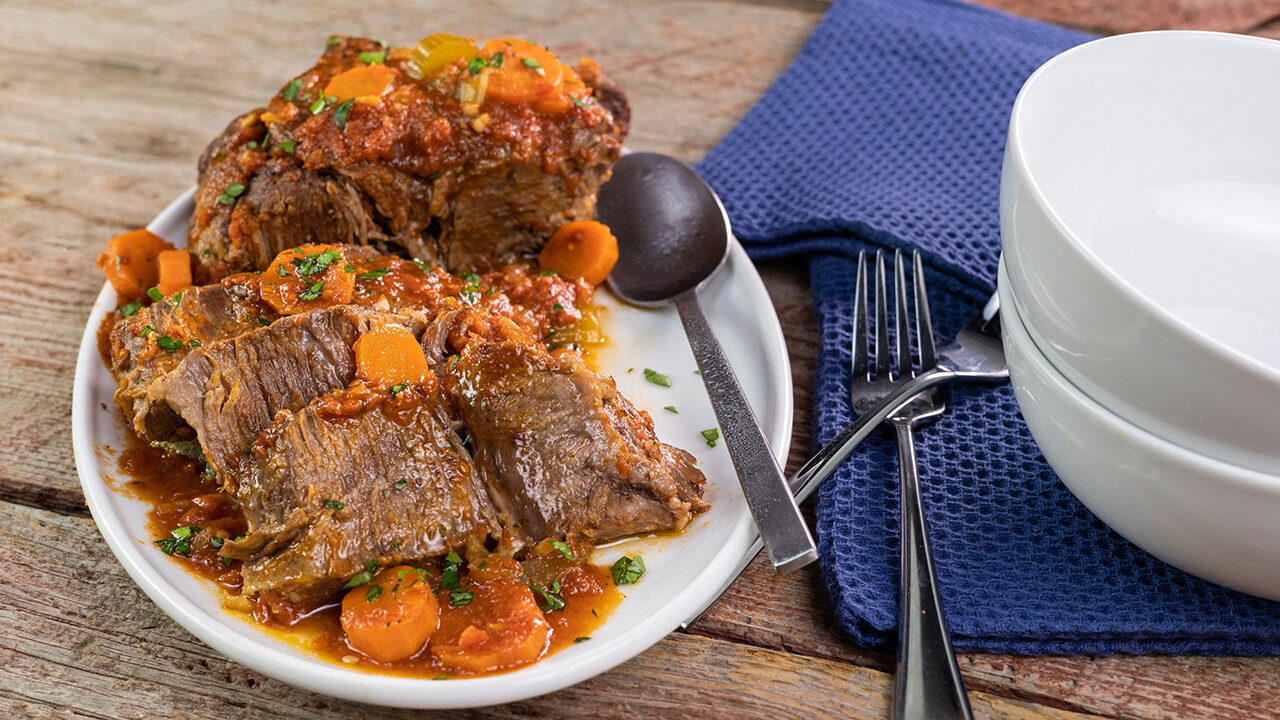 Easy to put together, this slow-cooked beef chuck pot roast comes out super tender with just the right mix of tomatoes, vegetables, garlic, and herbs.
Servings: 4-6
Prep Time: 15 minutes
Cooking Time: 5 hours 10 minutes
Total Time: 5 hours 25 minutes
Ingredients
2-1/2 lbs. Stew's Boneless Beef Chuck Pot Roast
All-Purpose Flour
Stew's Kosher Salt
Stew's Fine Ground Black Pepper
2 Tbsp. Stew's Avocado Oil
2 medium Carrots, peeled and sliced
1 large Onion, chopped
2 Celery stalks, chopped
1 Tbsp. Stew's Freshly Chopped Garlic
1/4 cup Red Wine
1 cup Stew's Beef Broth
1 can (28 oz.) SMT Crushed Tomatoes
1/2 cup Stew's Simply Marinara
1-1/2 teaspoons chopped fresh Parsley
Directions
Sprinkle the roast with the flour and pat off excess.

Heat the avocado oil in a large high-sided pan on medium-high heat until hot. Season with salt and pepper.

Add the roast and brown on all sides, about 2 minutes per side. Remove the roast and place in a slow cooker.

Add the carrots, onion, celery, and garlic to the pan and cook, stirring, for 2 minutes.

Add the wine and stir to release any browned bits from the pan. Cook another 2 minutes until liquid is a syrupy consistency.

Add the broth and bring to a simmer.

Pour the mixture over the beef in the slow cooker then add the tomatoes and sauce.

Cover and cook 4-5 hours on HIGH.

Transfer roast to a platter and serve with the vegetable mixture. Sprinkle with the chopped parsley.