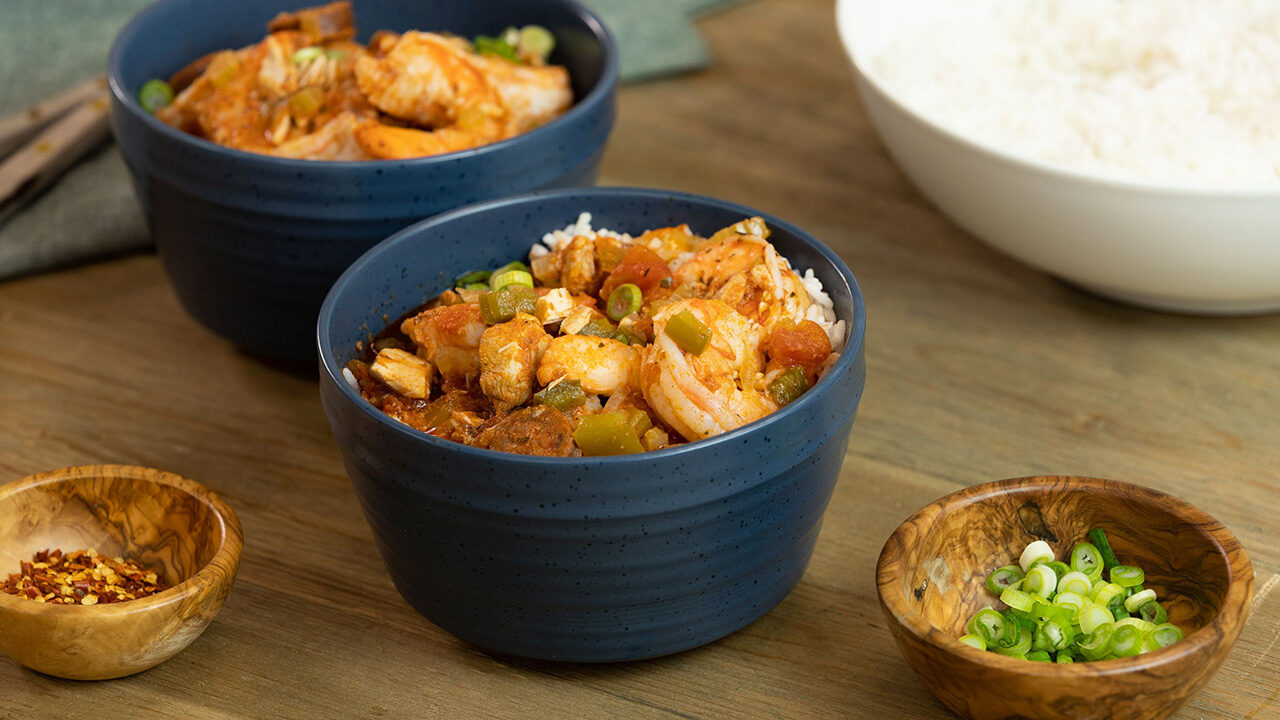 This easy slow cooker Jambalaya recipe is brimming with tender chicken and shrimp, spicy chorizo, and fresh vegetables. Simmered with Cajun-inspired spices, it's comfort food fit for a Mardi Gras celebration or serving any day of the year.
Servings: 12
Prep Time: 20 minutes
Cooking Time: 8-9 hours
Total Time: 8-9 hours 20 minutes
Ingredients
2 lbs. Stew's Naked Boneless Skinless Chicken Thighs, cut into 1-inch pieces
1 package fully cooked Stew's Chorizo or Andouille Sausage
1 can (28oz) SMT Diced Tomatoes
1 cup Stew's Organic Low Sodium Chicken Broth
1 large Green Pepper, diced
1 medium Onion, diced
2 Celery ribs, diced
1/2 cup White Wine
2 teaspoons Stew's Freshly Chopped Garlic
1 teaspoon Dried Thyme
1 teaspoon Dried Oregano
3/4 teaspoon Stew's Kosher Salt
1/4 teaspoon Stew's Fine Ground Black Pepper
1 teaspoon Stew's Cayenne Pepper
1 teaspoon Stew's Garlic Powder
1 teaspoon Stew's Onion Powder
Pinch of Stew's Crushed Red Pepper Flakes
2 pounds Stew's Jumbo Peeled and Deveined Raw Shrimp
8 cups cooked Rice
Small bunch Green Onions chopped, for garnish
Directions
Add all the ingredients except for the shrimp, rice, and green onion into a 6-qt. slow cooker. Stir well to combine. Cook, covered, on low until chicken is tender, 7-9 hours.

Stir in the shrimp and cook, covered, on for about another 15 minutes. Serve over the rice and garnish with chopped green onions.