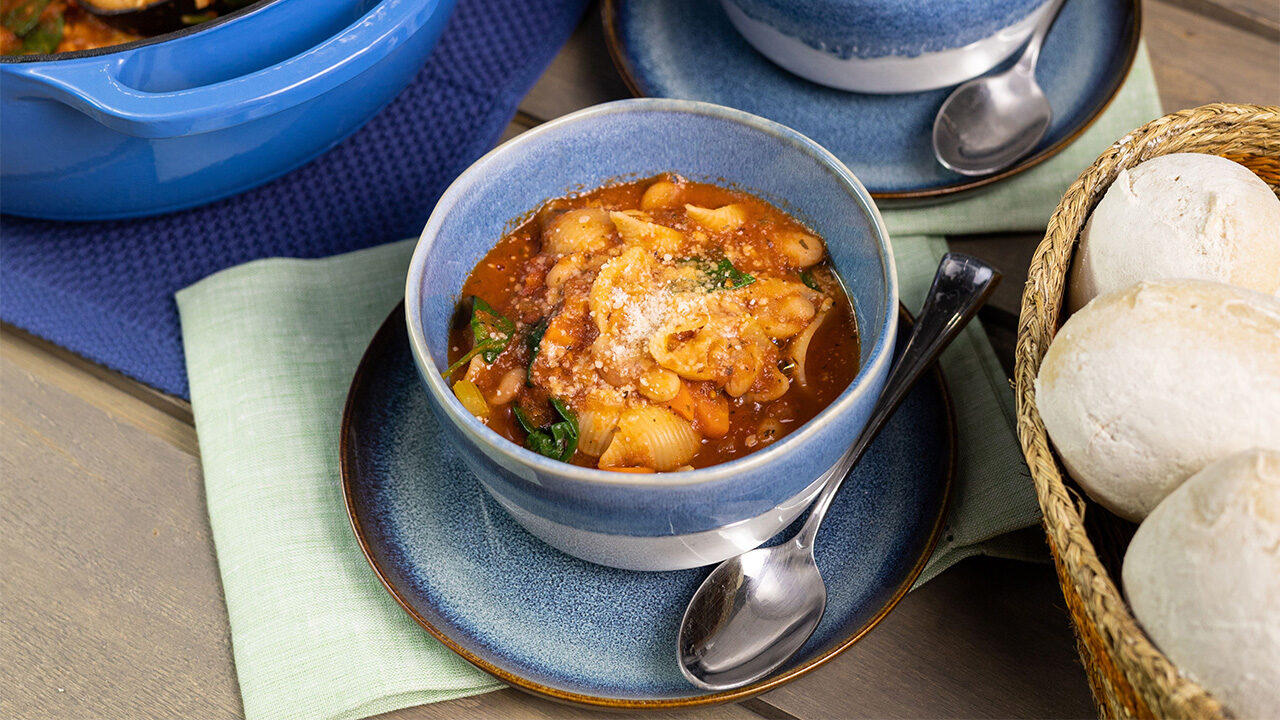 There's something to be said for a fresh vegetable soup that doesn't take hours to make. Packed with vegetables, spices, pasta, and fresh spinach, this soup comes together in about 40 minutes.
Servings: 6
Prep Time: 15 minutes
Cooking Time: 25 minutes
Total Time: 40 minutes
Ingredients
1 medium Onion, chopped
2 Celery ribs, sliced
1 Tbsp. Stew's Chopped Garlic
1 medium Carrot, halved and sliced
1 Tablespoon Stew's Avocado Oil
2 cups of Water
14-1/2 oz. Stew's Crushed Tomatoes
12-1/2 oz. Stew's Organic Low Sodium Chicken Broth
1 can (15 oz.) Stew's Cannellini Beans, rinsed and drained
1 teaspoon Stew's Dried Basil
1 teaspoon Stew's Dried Oregano
1 teaspoon Stew's Dried Thyme
1/4 teaspoon Stew's Kosher Salt
1/4 teaspoon Stew's Fine Ground Black Pepper
1 cup Stew's Organic Pasta Shells
3 cups Stew's Organic Baby Spinach
Stew's Grated Parmigiano Reggiano, for serving
Directions
In a Dutch oven, warm the avocado oil over medium-high heat. Add the onion, celery, garlic, and carrot and sauté until tender. Stir in the water, tomatoes, chicken broth, beans, and seasonings. Bring to a boil and add the pasta.

Reduce heat, simmer, uncovered, for about 15 minutes or until pasta is tender. Add the spinach during the last few minutes of cooking.

Sprinkle with grated Parmesan cheese before serving.