Winter Citrus, Shrimp, and Avocado Salad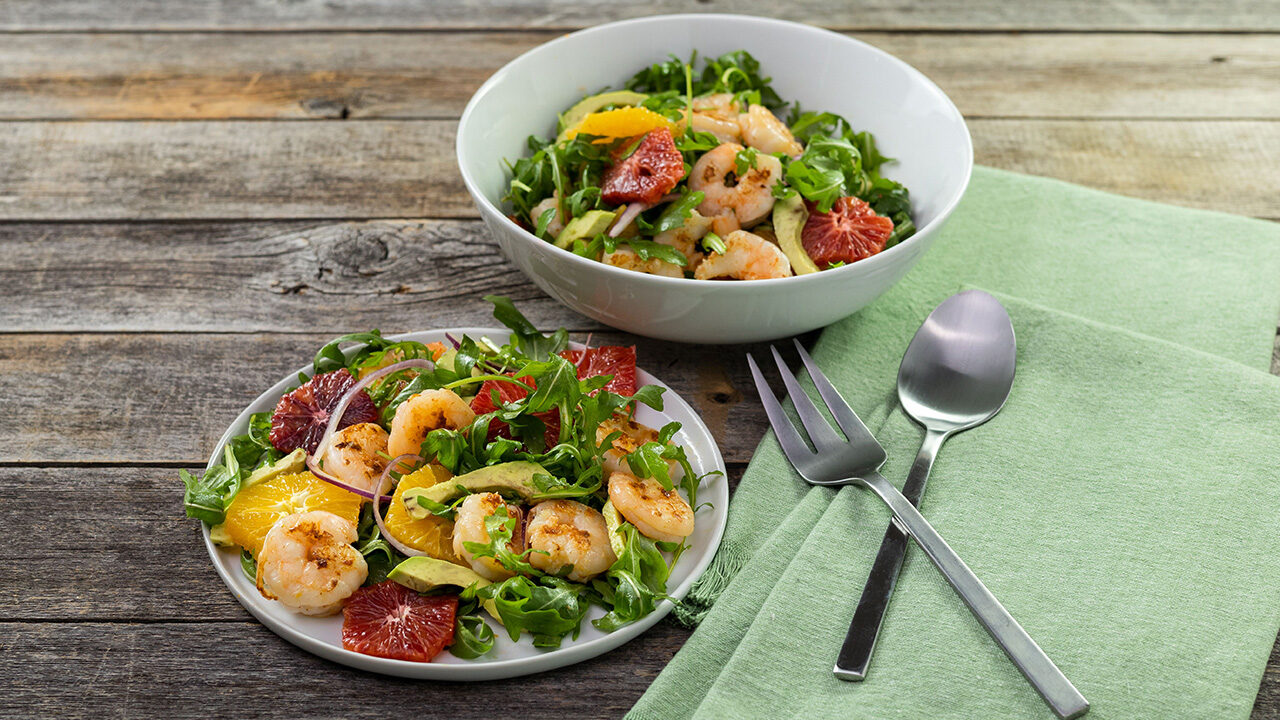 Simple, fresh ingredients like sweet-tart raspberry blood oranges, creamy avocados, and sautéed shrimp are the super stars of this citrus-inspired salad that comes together in under 30 minutes. It's perfect for a last-minute lunch or weeknight dinner salad.
Servings: 4
Prep Time: 15 minutes
Cooking Time: 5 minutes
Total Time: 20 minutes
Ingredients
6 oz. (about 5 small) Cara Cara Oranges, peeled and sliced into 1/4-inch rounds, plus 1 for zest and juice
6 oz. (about 3) Clementines, peeled and sliced into 1/4-inch rounds
2 Garlic Cloves, grated
1/8 teaspoon Dijon Mustard
4 Tbsp. Stew's Extra Virgin Italian Olive Oil, divided
4 Tbsp. freshly squeezed Lime Juice
1/4 teaspoon Stew's Kosher Salt, to taste
Stew's Fine Ground Black Pepper, to taste
1 lb. EZ Peel Jumbo Shrimp, tails removed
1 large Avocado, sliced
1 small Red Onion, thinly sliced
3 cups Arugula
Directions
To make the dressing: Zest one of the Cara Cara oranges into a large bowl. Slice in half and squeeze juice into the bowl. Whisk in the garlic, mustard, 2 tbsp. olive oil, lime juice, salt, and pepper. Set aside.

Pat the shrimp dry and season with ¼ teaspoon Kosher salt. Heat remaining olive oil in a large nonstick pan over medium heat. Add the shrimp and cook, turning occasionally, until cooked through, about 3 minutes. Transfer to the bowl with the dressing and toss to coat.

Add the avocado, onion, arugula, and orange slices, and toss gently. Transfer to a serving bowl or platter and drizzle with any remaining dressing.