Fresh Cut Trees Delivered Daily!
Stew Leonard's gets daily shipments of fresh, hand-sheared Christmas trees DIRECT from family owned tree farms just 25 miles north of the border in the cool, crisp mountains of Quebec, Canada - the best environment to grow hearty Christmas trees! Every customer buying their tree at Stew's receives a complimentary fresh cut and will have their tree tied to their car. Plus, they'll feel great knowing that our family-owned tree farmers will plant two trees for every one that is cut down.
"My family and I will see the same customers year after year coming to Stew's to pick out their Christmas tree. We love being part of their holiday traditions!" notes Stew Leonard, Jr.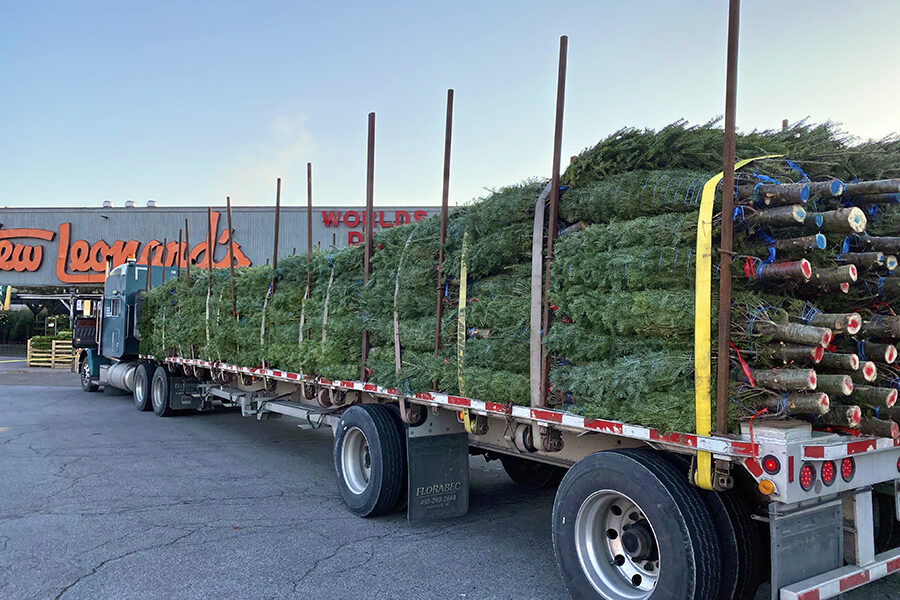 Stew's Has Your Perfect Christmas Tree
Stop by Stew's to pick up fresh cut Christmas Trees, wreaths, roping, and beautiful decorations for your home. Delivered daily, our quality tree selections can't be beat, and you'll feel good knowing you're getting the freshest and healthiest trees that will last you the entire holiday season.
Steps For Picking And Enjoying The Perfect Tree
Which Tree Should I Buy?
There are a few main questions that customers should ask themselves before purchasing their Christmas tree: What is the ceiling height in the room where it will be displayed? Do you hang heavy ornaments? Do you want a fragrant tree? Knowing the answers to those questions will make it even easier for customers to find their perfect tree.
Stew Leonard's sells two types of premium Christmas trees:
Fraser Fir
Stew's BEST SELLER! Sturdy branches for heavier ornaments, dark green needles, good fragrance. Great needle retention.
Ranges in height from 5' to 8'+.
Up To 6 Feet - $64.99
Up To 7 Feet - $84.99
Up To 8 Feet - $99.99
Cathedral - $219.99 - CUSTOMER FAVORITE!
---
Balsam Fir
Our most fragrant tree. Dense, strong branches and a dark green color.
A classic for the holidays. Ranges in height from 4' – 8'.
Up To 5 Feet - $32.99
Up To 6 Feet - $55.99
Up To 7 Feet - $69.99
Up To 8 Feet - $79.99
Cathedral - $219.99 - CUSTOMER FAVORITE!

Keep Your Tree Looking Great
To keep your tree looking great this holiday season, here are Stew Leonard's five tips for selecting and caring for your Christmas tree:
• Stew Leonard's tree experts recommend buying a tree that is one foot shorter than your ceiling to allow enough room to top the tree with a star or angel.
• To check freshness, remove a needle and bend it in half. If the needle gives but doesn't snap, the tree is fresh!
• Before taking your tree home, get a fresh cut of at least ½-inch to 1-inch to eliminate the heaviest build-up of sap and make sure it has full bark so it is easier for the tree to take up water in the stand. Also make sure to get the bottom branches trimmed to allow for at least six-inches of the trunk to stand comfortably in the tree stand.
• Customers should never shave the bark off their tree; the tree actually "drinks" through the bark. Stew's tree experts also recommend adding Stew's Miracle Tree to the tree stand, which is a special formula developed with their growers that replenishes the tree's nutrients immediately. Simply fill the tree stand with one part Stew's Miracle Tree and two parts warm water.
• When you get home, place your tree away from a heat source and direct sunlight and keep your tree hydrated with Stew's Miracle Tree and plenty of water. This is especially important for those putting their tree up earlier this year.

We Make Tree Shopping EASY!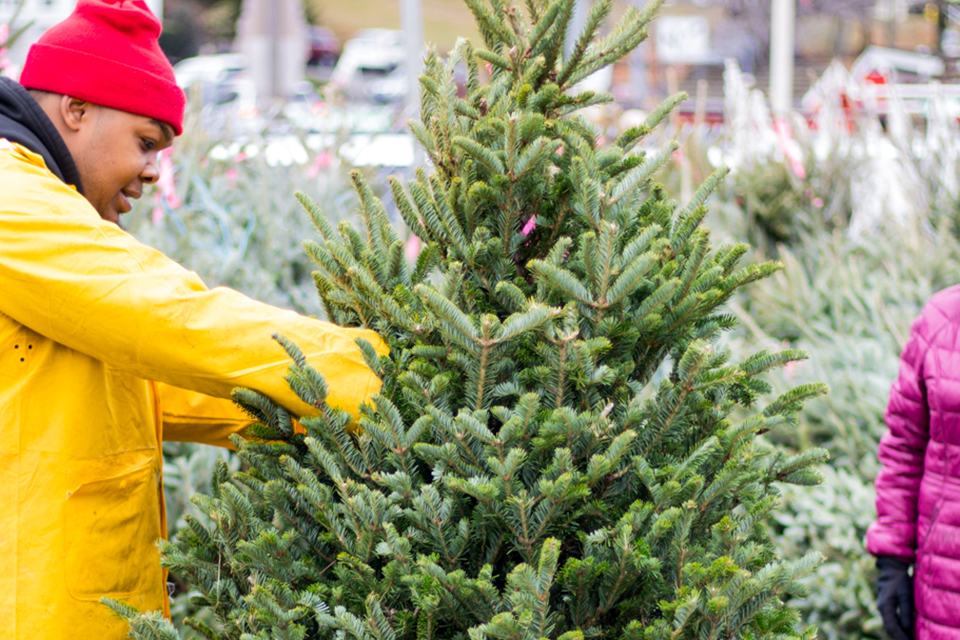 1.

SELECTING
Our friendly and knowledgeable tree experts will help you find the perfect tree.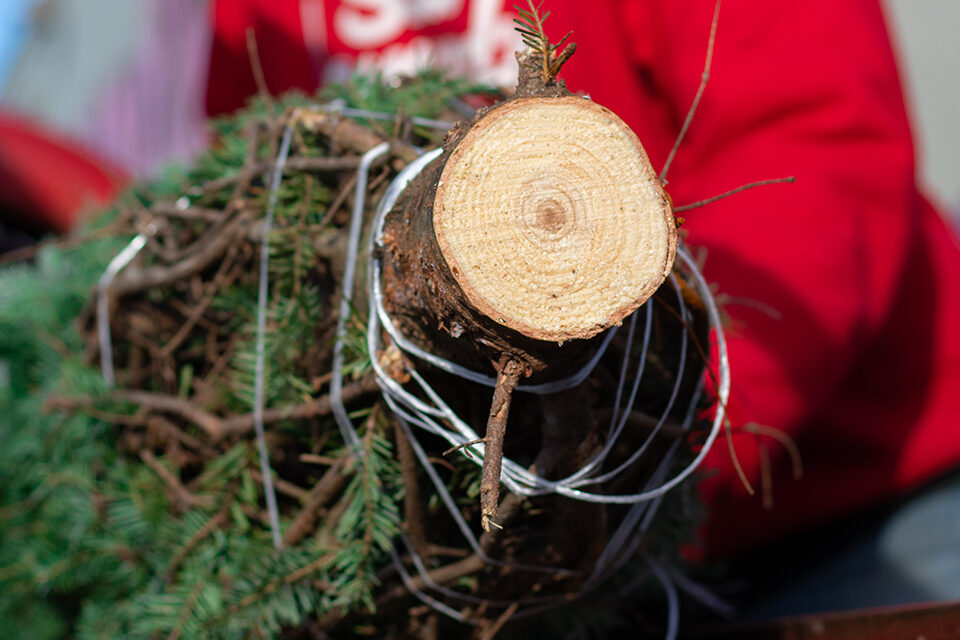 2.

FRESH CUTS
For a longer-lasting tree a fresh cut will help your tree to drink water in the stand and last longer.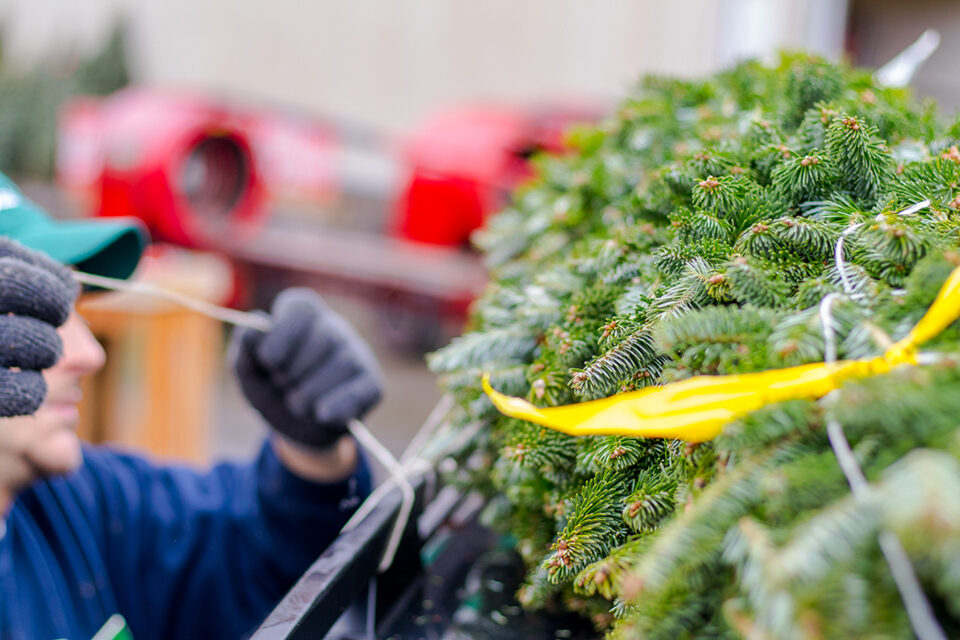 3.

TIED TO YOUR CAR
When you leave it's quick and easy. We securely tie your tree to your car. You don't even need to get your hands dirty.
How To Get A Fresh Christmas Tree
In 5 MINUTES!
"5 Minutes!" according to this customer. We'll help you find the PERFECT Christmas tree with ease plus you'll get a FREE fresh cut off the bottom, FREE magic netting, and we'll even tie it to the roof of your car for you. Come on down!
Wreaths & Roping
Stew's Christmas Shop offers a variety of roping and wreaths in both decorated and undecorated options. Customers can choose from wreaths made out of Juniper, Balsam, Noble Fir, mixed Oregon Greens, and a fragrant Cedar & Juniper combination (selection will vary by store). Roping is offered in White Pine, Western Cedar, Noble Fir and Boxwood and comes in a variety of lengths. Here are Stew Leonard's top three tips for selecting and caring for your wreaths and roping:
• To decorate a fence line, choose roping at least 25 yards in length.
• To decorate a doorway, choose roping at least 6 yards in length.
• When using wreaths and roping indoors, customers should spritz water on their greenery periodically throughout the season to keep them looking fresh.
14 Inch Wreaths
Undecorated - $15.99 ea. or 2/$30
Decorated - $21.99 ea.
Decorated Fancy Deluxe - $34.99 ea.

---
24 Inch Wreaths
Undecorated - $49.99 ea.
Decorated - $59.99 ea.
Decorated Fancy Deluxe - $64.99 ea.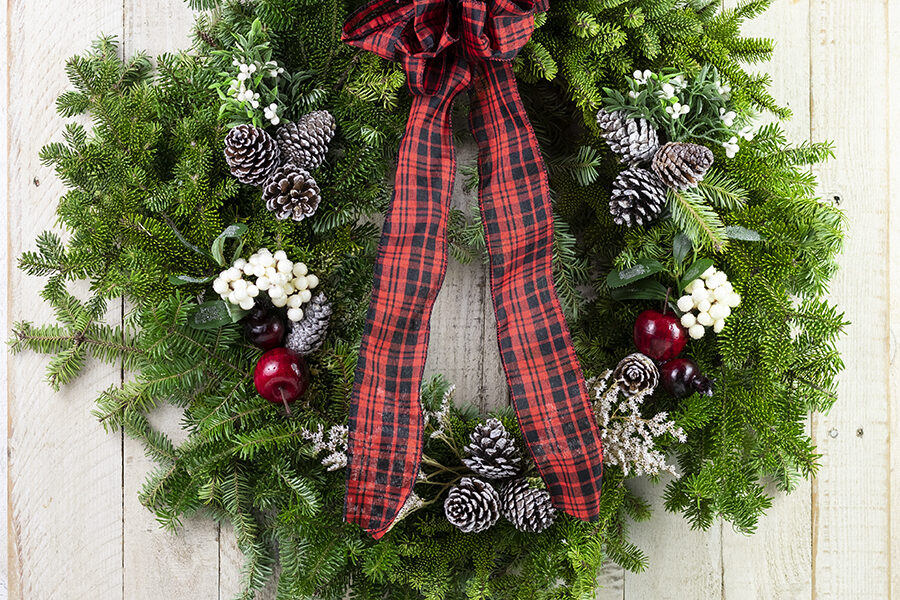 Holiday Decorating With Stew Leonard's
Wreaths & Roping
Learn how to stylishly decorate your home this holiday season with Stew's wreaths, roping, and trees galore.
Holiday Lights
Stew Leonard's Christmas Shoppe sells a variety of lights, ornaments, and decorations to help deck the halls. Here are Stew Leonard's top three tips for selecting the right holiday lights for your tree:
• Stew's tree experts recommend buying about 100 lights per foot of tree.
•For customers looking to update their old Christmas tree lights, LED lights have become an increasingly popular option. LED lights are brighter than incandescent, use less electricity and give customers the option of attaching more strands per run (exactly how many strands that can be connected will depend upon the manufacturer).
• Cool White LED lights will lend a bluish tone while Warm White and Multicolor LED lights will give off a look closer to incandescent bulbs.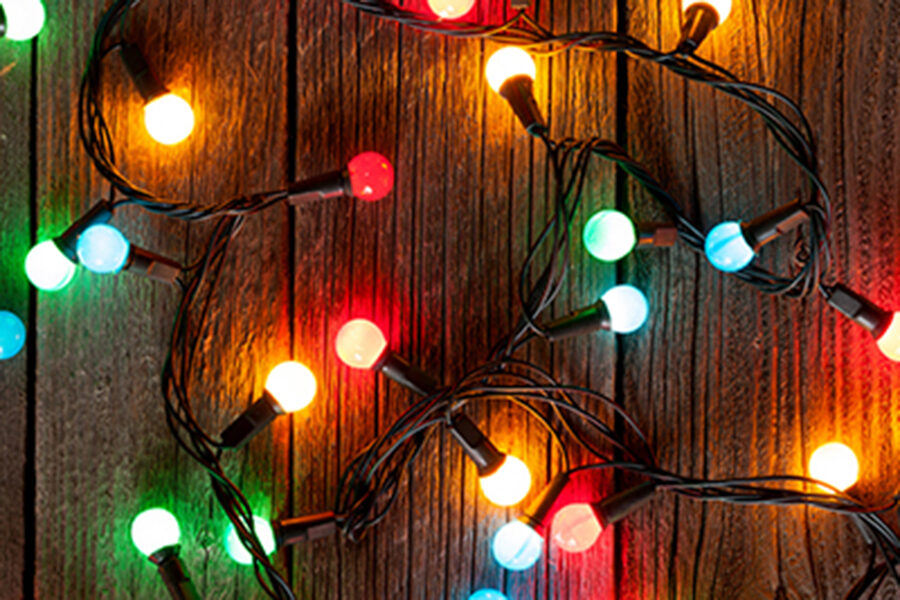 The Finest Quality Poinsettias
Red or White
6" Pot - $7.99 ea. or 3/$21
10" Pot- $18.99 ea.or 2/$36
Stew Leonard's has been buying vivid and vibrant poinsettias from Mark Adams Greenhouses in the heart of the Hudson Valley for more than 20 years. Led by third-generation farmer and grower Mark Adams and his wife Sue, Adams Greenhouses boasts 5 acres of greenhouses and the ability to grow over 5 million plants – including poinsettias, one of Stew's customers' most-loved holiday plants.
Ranging in color from creamy white to pink to the traditional bright red, poinsettias are a fresh and festive way to decorate during the holidays! To get the most out of your poinsettias, Stew's gardening experts recommend keeping them near a sunny window and only watering them when the soil feels dry.

Do You Want To Make A Loved One Smile This Holiday Season?