Stew Leonard's filet comes direct from ranchers in the Midwest. All year long, but especially during the holidays, customers line up at our butcher counters to have one of Stew Leonard's expertly trained butchers custom-cut their beef tenderloin to their exact specifications.
"Stew Leonard's butchers and I have personally visited our ranchers throughout the Midwest, and we've met their families," said Stew Leonard Jr. "You won't believe the buttery melt-in-your-mouth fork-tender texture! This is restaurant-quality beef."
Whether the centerpiece of your holiday table this December is a juicy beef tenderloin, a spiral cut ham, or a roast chicken, Stew Leonard's has your farm fresh favorites to create a memorable meal. Happy Holidays from the Leonard family!
Meet Our Ranchers
Brothers Shawn and Shane Tiffany, known as "the Tiffany boys" to their neighbors in Herington, Kansas, are the owners of Tiffany Cattle Company, just one of the family-owned ranches that Stew Leonard's buys its meat from. The Tiffany brothers oversee thousands of cattle on their ranch, even growing their own grass as food for their cattle.
Which Filet Is Right For You?
You'll be proud to serve ANY of our delicious Filet Mignons! Our whole filets feed 8 -10 people and will make any meal a celebration.
Here's a quick list of the different choices we have.
All custom cut FREE by our butchers into roasts or steaks!

Our Famous Fork Tender Whole Filet Mignon
(8-10 lb. avg.)
This juicy, fork tender filet is the filet that started it all. Direct from Kansas with all the fat remaining on the tenderloin to be trimmed.
Already Trimmed Filet Mignon (5-7 lb. avg.)
OUR BEST VALUE
Most of the fat has already been trimmed by our team of expert butchers, with just a bit of fat left for our butchers to custom trim.
Oven Ready Filet Mignon (4-6 lb. avg.)
SKIP THE BUTCHER SHOP with our Grab 'n Go
Completely trimmed and seasoned. Ready to roast – done in 40-45 minutes!
ALSO AVAILABLE:
- Stew's Naked – Black Angus, No Antibiotics ever, No hormones added, and Vegetarian fed.
- USDA Prime – This is the best money can buy, is the highest grade, and is served at the finest steakhouses in NYC.
Filet Mignon TIPS:
For best overall flavor and texture, cook the filet to medium-rare (130°F - 135°F).
Remove filet from the oven when it reaches 125°F - 130°F.
As a rule of thumb, let the filet stand for 10-15 minutes before carving, covered lightly with aluminum foil. The temperature will continue to rise, or carryover cook, to its final desired temperature.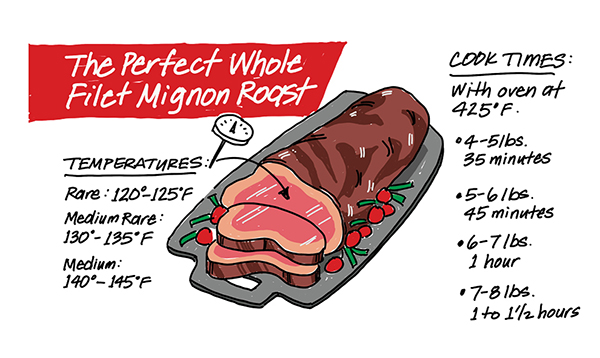 How To Cook The Perfect Whole Filet Mignon
It's easy to oven roast a whole trimmed filet mignon. Here's a video that will take you step-by-step through the preparation and cooking of the filet with a medium-rare finish.
How To Cook The Perfect Bone-In Rib Roast
A must for holiday celebrations and special gatherings, here's a no-fail recipe for a perfectly roasted bone-in rib roast with a juicy and tender inside.