Around The Store With Stew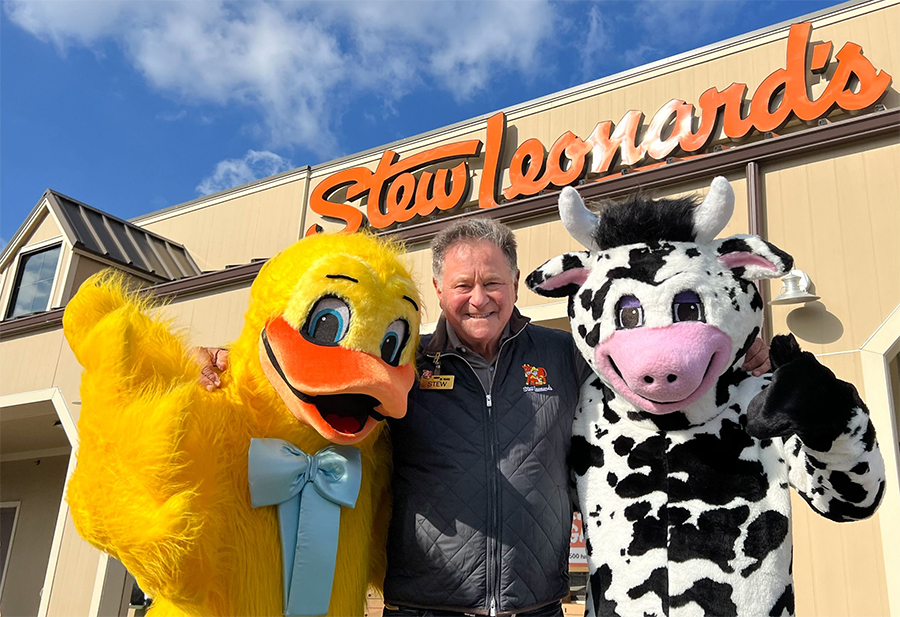 I MET THE "STEVE JOBS" OF WINE
On my losing weight pursuit (pretty much every Jan/Feb), I'm not drinking wine. Then, Paul Hobbs visits us. First wine maker at Opus One (at over $400 a bottle). Forbes called him the "Steve Jobs of wine," and he's one of the world's top wine consultants. He also owns 7 vineyards that produce his high-quality wines. He brought seven of his new vintage wines and he poured Blake and our buyers a glass to taste. I swirled and sniffed but the wine didn't touch my lips. It killed me when he presented his 2018 Dr. Crane Vineyard Cabernet Sauvignon, and I couldn't taste it. I'll make up for it in the future!
---
THIS YEAR 10,000 FREE SWIM LESSONS, NEXT YEAR 20,000
Construction is moving along for the Stewie the Duck Swim School in Norwalk, Conn.! My wife and I will be doing regular progress reports. If you want to get in on the action, including when you can start booking swim lessons, click here and we'll add you to the newsletter list.
---
SUPER BOWL – CREAM CHEESE OR BEEF?
When I speak to our 6'5" cowboys in Kansas, they ask me, "Who are you rooting for in the Super Bowl?" Here's the way I look at it, the biggest item we get from Philly is cream cheese and our cheese steak subs (on sale during Super Bowl week). On the other hand, Stew's gets trailer loads of fresh beef EVERY week from Kansas. I'm going with Kansas City!
---
HAPPY (EARLY) VALENTINE'S DAY
I'm going to pick up some grilled shrimp and some veggies to dip in our chef-made guacamole for Super Bowl Sunday (I told you I was on a diet!). Guess what I'm getting for dessert? Hand-dipped chocolate covered long-stemmed strawberries. Our chefs will be dipping them next weekend through Valentine's Day. I might even share a few with my wife, Kim!
---
QUICK NOTES FROM OUR BUYERS:
• Meat prices seem to be easing. Ground beef (80/20) was $3.49/lb. last year and it's $2.99/lb. this year. Chicken wings last year were $4.99/lb. and this year they'll be a dollar cheaper. We're riding the market prices.

• Naked salmon and our Naked Gulf shrimp are the biggest sellers here. Shrimp was $12.99/lb. last year and is $9.99/lb. this year. We left our Bay of Maine Naked Salmon at $9.99 and haven't changed the price all year. We're testing a new Naked salmon from Faroe Island (near Norway) starting this week at $12.99/lb. Our fish departments are hosting Real Deal lobster roll events over Super Bowl weekend, which is a hot and fresh buttered lobster roll for $14.99. Here's a little video to get your mouth watering!

• California is finished with most of their crops and our buyers have moved to our farmers in Arizona and Florida. Remember the sweet oranges you'd see at the farmer's markets in Florida? Well, you can get the same ones in the store now. Also, the pineapples and melons (Honeyglow and Sol Glow, respectively) are like eating honey.

• Vegetables are coming from Florida and Arizona. Lettuce is tight due to the weather and prices have jumped. Last year, lettuce was $4.99 and this week we have on sale 3/$5 or $1.99/each. Berries remain stable (be sure to try Driscoll's Sweetest Batch variety), but strawberries are getting very tight as we get closer to Valentine's Day. We will have long stem strawberries at a lower price than last year. You love our fresh cut daily fruit bowls too.

• It's been 8 months since we switched from Boar's Head to our Stew's Gold Reserve. Cold cut sales are up but, there are some die hard Boar's Head customers that quit Stew's. Why are they up? First of all, you are saving $2-3 a pound. Secondly, we are able to promote Stew's Gold pre-sliced and shaved (a big trend and Boar's Head wouldn't allow us to do that).

• The cheese markets seem to be easing. Transportation costs are coming down since last year. This especially helps with our brie from France and Parmigiano Reggiano from Italy. Most of our domestic cheeses come from Wisconsin (incredible green grass and the cows produce amazing milk).
---
WHY IS CAULIFLOWER SO HOT?
My friend on NBC, Produce Pete, is promoting this too. Cauliflower was $6 a head and now it's about half the price. It's great to mash and use as a low carb alternative to mashed potatoes. Our cauliflower crust pizza is a big hit too. It's now a buzz word in the food industry.
---
"EASING" SEEMS TO BE THE TREND EXCEPT…
Record high egg prices, but they are coming down. Our Stew's Naked Cage Free brown eggs are still a great value at $3.99 a dozen. As our chicken farmers recover from their own form of Covid lock down, they're raising new flocks of hens. You'll see prices drop over the next few months. Milk prices have stabilized and so has butter. We had some supply issues with the production of our Stew's Almond Milk, but we have the issues resolved.
---
FLOUR, WATER, YEAST, AND…
These are our biggest ingredients, but packaging costs are killing us. Both for the package (we're 99.9% recyclable in the bakery and kitchen). A package for our cookies used to cost 15 cents and now they are 24 cents per package. Multiply that by 40,000 packages a week and you're looking at real money.
---
HOW DO WE GET "STEW'S" ON THE LABEL?
We are introducing more and more "Stew's label" items around the store. The rule - the product must be AS GOOD OR BETTER than the rest. You'd be surprised at who packages many or our Stew's brand. The individual bags of popcorn are loved by moms and dads for their kids. Also, they are only 50 calories per bag. Easy choice. The Stew's Organic Tortilla Chips are great with our freshly made guacamole. New to our shelves are the Stew's Veggie Sticks and organic whole grain pasta from Italy.
---
WE SNAGGED ANOTHER IDEA FROM OUR FRIENDS AT CHICK-FIL-A
A highly admired company and family is Dan Cathy and his kids at Chick-Fil-A. We introduced our Stew's Chicken Sandwich, and they motivated us to do a scholarship-based product like the sauce. We've now introduced our own salsa and all proceeds will go toward doubling the scholarship money that Stew's currently supports for Team Members.
---
HELLO MEATBALLS AND…
… Balsamic grilled chicken, Parm crusted chicken, and quesadillas. Can hardly keep these items on the shelves. Freshly prepared salads are also a big hit, and the Caesar salad is number one. Cold weather pushes the macaroni & cheese, chicken pot pie, and Shepherd's pie, our hot buffets and hot soups. Our sushi chefs love creating "chef's specials" every day. How many ways can you make sushi? BBQ chicken and wings are still rocking and you're loving our smoked ribs and meats. Hickory, cherry wood, and maple wood give the meat such great flavor.
---
OUR ORGANIC FARMERS ARE WORRIED
The USDA is tightening up on certification standards to ensure that when a label says "organic," it's organic! We inspect and make sure we are buying from reputable farms. It's been 30 years since the last regulations were published and organics have grown from a few billion to over $60 billion today! It's time, but most organic farms are mom-and-pop (and kids) managed. They're hoping this doesn't add to their already heavy paperwork. They already complain!
---
FRANK PERDUE AND DICK AULETTA?
My daughter Blake and I were standing at our Customer Service Rock and guess who just finished shopping? Dick Auletta. He runs a super successful PR firm in NYC and was introduced to us by Frank Perdue nearly 40 years ago. Frank Perdue met us at the time he was just launching his chicken in the New York market. He needed an "outlet" for his excess chicken and my dad agreed to promote it in Connecticut. Trailer loads of Perdue Chicken hit our shelves and we were the first in the state. "It takes a tough man to make a tender chicken." We have been friends of the Perdue family over the years and have loved watching Jimmy and his family take over the reins.
---
GUESS WHAT ITEM HAS MY HEAD SPINNING?
My nephew Andrew came to me a couple of weeks before Christmas saying he needed to bring in this hot new drink called Prime. I hadn't heard of it but gave him the green light to give it a test in Yonkers. Wow! Fast forward and it's in all 7 stores now and flying off the shelves. Logan Paul if you're out there, come by the stores and say hello!
---
HERE'S WHAT I'M SMOKING THIS WEEK
I'm trying hard to reduce my sugar and salt. Obstacle? I love my bagel, cream cheese, and lox every Sunday morning. I can scoop my bagel and get low-fat cream cheese, but the salmon is cured in sugar and salt. Instead, I asked the chefs to put a piece of salmon in our smoker with apple wood (nice and sweet) instead of hickory. I took a bite and my eyes rolled around. I now have my perfect Sunday morning fix!
---
I'M PUSHING THE "SEND" BUTTON NOW!
Thank you for reading this email each week. The "open rate" keeps growing and we're over 250,000 readers each time. I received about 200 comments from my last newsletter so, keep those ideas and comments coming. I read them all.
GO KANSAS CITY and I won't forget the roses for my wife on Valentine's Day!
Feedback From You… Do I Really Write This?
I try to recap things happening around the store but, I don't hit the "send" button right away. Rich Lung (Creative Director, 40 years at Stew's) adds pictures. Then Meghan Bell, Director of PR, 12 years, lightly reviews but leaves in my voice. Then, Karen Berner reviews, CIA-trained chef and worked with Martha Stewart 5 years. Makes sure my cooking/product comments are correct. Lastly, my daughter Blake makes sure any wine/food pairings are correct, and then, I hit the "send" button! Goal is to make sure it's from the heart.
---
Bummed Out About The New York Giants, But…
They had a great season. First time in the playoffs since 2011. "Big Blue" skies ahead. Many of the players shop at Stew's and love our aged beef and fine wines! Big eaters.
---
Celebrity Wine And Spirits Update From My Daughter Blake
Just like any product, some celebrity brands stick, and others don't. It has to be great quality, and then the celebrities that really get behind their product are the ones we see succeed. A lot of tequila was consumed and gifted this past holiday. Adam Levine's pink tequila, Calirosa, The Rock's Teremana Tequila and Aaron Paul and Bryan Cranston's Mezcal, Dos Hombres, continue to build in sales. Not only is Tequila as a category on fire, but it also gets a lot of attention for its lower calories and no carbs. When Champagne was hard to come by these past couple of years, Prosecco was able to pick up more attention. Christie Brinkley's Zero Sugar Sparkling is a big hit. No wonder she's able to stay in such great shape!
---
Product Story… Paul Newman's Salad Dressing
Paul and Joanne Woodward lived in Westport, Conn. for years and shopped at Stew's. One day, Paul presented my Dad with his homemade salad dressing that he made for his friends during the holidays. Can I get this made anywhere? My Dad hooked him up with a co-packer but, the minimum order was far more than Paul needed. My Dad said, "I'll take whatever you can't fit in your garage," and recommended that Paul put his picture on the label. "You want a personal touch." Paul agreed and the first batch of bottles arrived. We built a huge display in the store, and it created huge publicity. Newman's Own was launched. Today, they have raised over $570 million, and, from the get-go, Paul insisted all profits go to charity. I always remember he loved our hamburgers too!
---
Talk To Me – Your Questions Answered
• I love using the Stew's App, but what do I do with my over 100 free ice cream cones and coffees?
We're working on other rewards that we can offer you to use the points you've accumulated. Stay tuned.
• Why can't I purchase Tuscan bread in the Newington store?
Good question. We sell our fresh baked Tuscan style bread in 6 of our stores and it sells really well. Why not in Newington? We're going to try baking it and see how it sells.
• What is ultra-pasteurized milk and why is corn syrup used in our eggnog? "
Ultra-pasteurized" is the wave of the future
. Regular milk is heated to 161°F to kill harmful bacteria. Ultra is heated to 280°F. This kills even more harmful bacteria and extends the shelf life from a few weeks to over 2 months. By the way, my Dad (a UCONN Ag grad) did a taste test, and he couldn't tell the difference in taste. As for the corn syrup? 70-year-old family recipe that needs to be updated. You'll see cane sugar added in the next batch.
---
Save A Life One Lesson At A Time
We lost our son in a drowning accident. It happened nearly 34 years ago, but it never heals. Our family is on a mission to prevent drownings for kids. My dream was to open a swim school and it's finally happening. Profits will be plowed back into free lessons for kids in need. We should be able to provide over 10,000 free lessons next year! Yeah! Stewie The Duck Swim School will open in late spring and we are
hiring a General Manager
.
---
How Do I Disconnect The Battery?
My daughter Chase came up with the idea of selling plush toys that sing our animated characters' songs in the store. She wrote and sang a song for the Avocado Girls; they were a hit! Next, was the singing banana and then Stewie the Duck singing "Don't Jump In Until You Learn to Swim." Lots of you on social media posted about how the next plush toy should be a cow! It's coming to the tune of "Old Macdonald Had a Farm." The biggest complaint from parents? How to disconnect the battery because their kids have to go to sleep!
---
Shout Out To Senator Blumenthal
… for his decades of support for our water safety efforts. Every time we call him to help us publicize water safety for kids, he's right there!
---
Many Of You Ask About My Dad And Mom
They're still going strong at 93 and 90. Dad reads and writes for hours every morning, and my Mom is the Energizer Bunny. I hope I have lots of their genes! We surprised Dad on his 93
rd
birthday.
Check out his happy reaction here.
---
Holiday Sales Were Strong In Spite of Inflation
We had to dodge a few weather issues but, with more people vaccinated, it seems that families were getting back together.

• Platter sales were up (shrimp, cheese, fresh cut fruit and salad bowls, and especially cannoli!)

• Catering sales were up 20%. Go to the website, order, and pickup. Simple. You especially loved our "Dinner for 8" meal. Filet mignon, rib roast and grilled shrimp were your favorites.

• Overall, customer visits were up. We beefed up our in store free samples too.

• We sold nearly 40,000 Christmas trees. That's a lot of trees to tie on top of your cars!
---
Lights, Camera, Action
Nearly 20,000 of you viewed our
YouTube
videos with cooking and reheating instructions for reheating a spiral ham, how to cook a filet mignon, rib roast, and more. We also showed you how to pick the perfect Christmas tree. We'll be doing more with QR codes to cooking videos on our catering boxes.
---
Tom Brady, When Are You Really Going To Retire?
I get asked all the time, "When are you going to retire?" I'm slowly passing over the reins to our family members and management team, but this holiday I toured all the stores and had so much FUN meeting our customers and Team Members. I loved it and can't ever see myself fully retiring. I smiled when a customer told me why he hates Stew's.
Check it out!
---
What You're Clicking On
---
Hope you enjoyed this newsletter and, again, I love getting your feedback. It's time for me to hit the "send" button!