In the week leading up to Thanksgiving Day, Stew Leonard's will sell more than 15,000 Thanksgiving turkeys to our customers, which is more than 150 times the number of turkeys sold during an average week. Our chefs and bakers will also make enough gravy to fill up an entire swimming pool – which is about 20,000 quarts of gravy - enough pies to go the length of 97 football fields (55,000!), mash 10,000 pounds of potatoes, and bake a quarter-million dinner rolls. Our chefs are also kept busy fulfilling more than 4,000 catering orders!
Meet Our Turkey Farmer
David Jaindl - Jaindl Farms
Family owned and operated Jaindl Turkey Farms has been in the turkey business for more than 70 years in Pennsylvania's Lehigh Valley. They provide our Stew Leonard's shoppers with our all-natural free-range Naked Turkey, which is fed a 100% vegetarian diet and are NEVER given antibiotics or added hormones. We like cooking this bird because it has 50% more white meat and 55% less fat than regular turkeys! You can't buy a better turkey!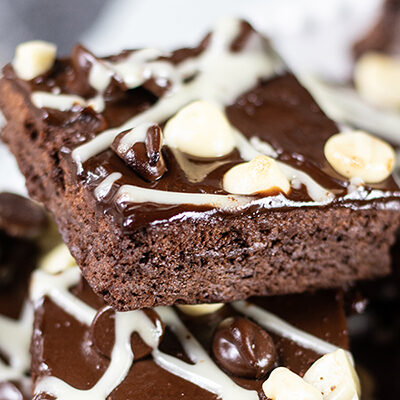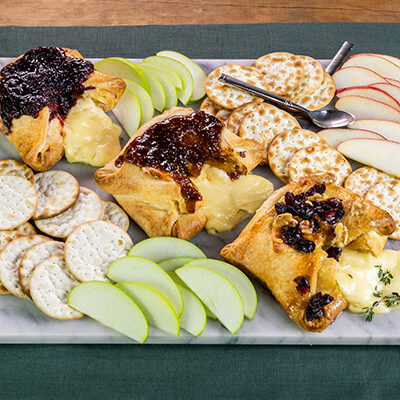 What Should I Bring As A Guest For Thanksgiving?
Hot Cocoa "Bombs." A new holiday tradition. They're a pain to make but worth it! We make a Belgian chocolate ball and put hot cocoa mix and mini marshmallows inside. Just drop them into a mug of hot milk and, presto, you've got delicious hot chocolate! Get 10 oz. of Hot Cocoa "Bombs" for $15.99.
Peppermint Bark - Belgian white and dark chocolate with lots of crushed peppermint on top. Who wouldn't love these? Pickup a box at $9.99 ea.
Chocolate Brownies – Individually wrapped and very "fudgy!" They're a big seller. Just add a big dollop of Stew Whip on top. Give 'em a try at $14.99 a box.
Baked Brie – Bring this rockstar to any Thanksgiving celebration. Only $12.99. Be sure to warm in the oven for a few minutes so the cheese gets ooey-gooey.
A Great Cheese Board – Just grab the board and a box of crackers and you're on your way! Only $29.99 for a cool selection of Gouda, Cheddar, Honey Goat Cheese, Cranberry Wensleydale Cheese, and more.
Wine & Spirits – The most highly recommended wine varietal for Thanksgiving is Pinot Noir. Any wine expert or chef will be impressed if you serve this with your meal. It's super food-friendly and goes great with pretty much any food you have on the table. However, some people prefer white wine so I'd also serve a Pinot Grigio. Why? It's crisp, has nice fruit, and it's a crowd-pleaser. And before your meal, everyone loves a lightly sweet sparkler like Prosecco. If you want to "WOW '' your guests with a celebrity-backed drink, you could include Brian Cranston's Dos Hombres Mescal, Christie Brinkley's Bellissima Proscecco, The Rock's Teremana Tequila, or Ryan Reynold's Aviation Gin.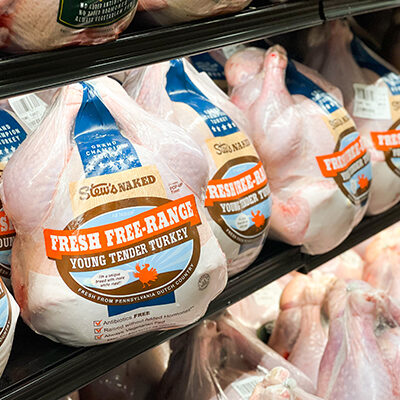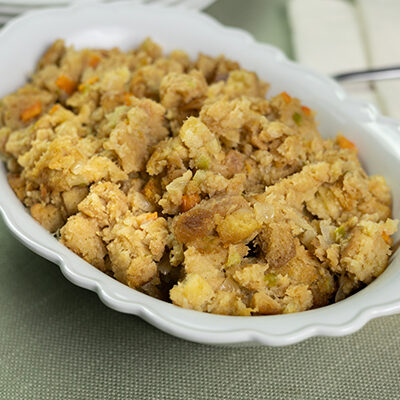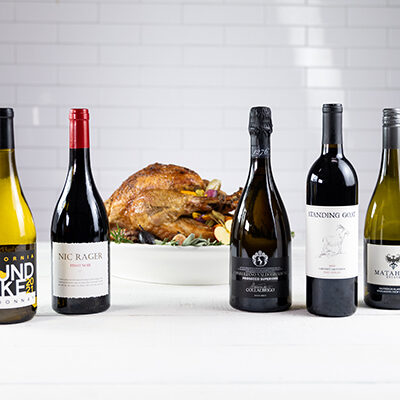 Our Top Thanksgiving Customer Questions
Every year, our customers ask Stew's chefs the same questions about the best way to choose, prepare, and cook their holiday turkey. This year, Stew Leonard Jr. shares his top turkey tips that he's picked up over the course of his lifetime in the grocery business:
Q. What size turkey should I buy and how far in advance can I buy it?
A. Stew Leonard's offers a range of sizes to meet everyone's needs! Our turkeys weigh in anywhere between 12lbs to 28lbs! Now that's a big bird! But I think that having leftovers is just as important as the big meal itself, so I always make sure that we have a bird that allows for 2lbs. of turkey meat per person. If you're not a fan of leftovers though, I think that 1.5 lbs. per person is just fine. Our fresh turkeys can be purchased 10 days in advance, giving you more time to prepare for the big day!
Q. What kind of turkey do you sell?
A. Our best-selling turkey is our all-natural free-range Naked Turkey from the Lehigh Valley. These turkeys are fed a 100% vegetarian diet and are NEVER given antibiotics or added hormones. We like cooking this bird because it has 50% more white meat and 55% less fat than regular turkeys! You can't buy a better turkey! We also have kosher as well as Organic turkeys.
Q. How should I store my turkey prior to cooking?
A. Once you have your turkey home, it should be stored in the coldest part of your refrigerator, which is the bottom back corner. Keep it wrapped in the plastic until just ready to begin preparing. Our chefs also recommend putting the raw turkey on a plate or in a pan just to make sure no juices accidently drip inside the refrigerator.
Q. How do I prep my oven and turkey before cooking?
A. First, I always make sure the oven is fully preheated. I generally turn the oven on when I take the bird out of the refrigerator to begin preparing it. That way, a bit of the chill is gone from the turkey, giving it the opportunity to cook at a more even pace. You will want to cook the turkey for 15-20 minutes per pound at 350°F. For a plump and juicy bird, layer our Stew Leonard's aromatics in the bottom of your roasting pan and place the bird on top. Once the skin is brown, tent the turkey with a piece of parchment paper and then a piece of foil on top. The parchment will prevent the foil from sticking to the skin. You'll want to cook the bird until a meat thermometer inserted into the thigh joint reaches 165°F. Pop up timers will go off once the breast reaches 165°F, but our chefs tell me to test the thickest part of the thigh to make sure the turkey is cooked through! Take the bird out of the oven to rest, still tented under the foil, for about 15-20 minutes before carving.
Q. Does your family stuff the turkey before roasting? I've heard it's not safe, but everyone seems to be doing it!
A. We like to use our chef's Turkey aromatics inside of our bird- it gives the meat a wonderful flavor and the aroma is incredible! If your family really prefers to stuff your turkey, just be sure to place fully cooked stuffing in the turkey right before roasting, never the night before (this could grow bacteria), and make sure the stuffing is at least 165°F before removing from the oven. Keep in mind that when you stuff the bird the cook time increases slightly, up to 5 extra minutes per pound of turkey.
Q. What wine, spirits, and beer should I serve?
A. You don't have to go crazy with the wine. Keep it simple. My daughter Blake just tasted 15 wines under $15 with wine expert and educator Keven Zraly who founded the Windows on the World Wine School and has written 8 books about the subject. He even gave the "thumbs up" on the great value wines that Blake shared with him.

Top Wine Pairing Tips For Thanksgiving
Simplify Thanksgiving with a few can't-miss bottle selections. Certified sommelier Blake Leonard shares how to Impress your guests, without the stress!

Stew's Thanksgiving Feast
Stew Leonard's has your Thanksgiving meal covered from fresh turkeys and ham to tasty sides and desserts. Check out an easy to pick up ultimate pre-prepared Thanksgiving dinner that includes Idaho mashed potatoes, homemade cranberry orange sauce, sweet potato mousse, old-fashioned stuffing and turkey gravy made with organic turkey broth, green bean almondine, roasted butternut squash, as well as pumpkin and apple pie, and everything in-between. Let our chefs do the work so you can enjoy your holiday!
Over The Past 43 years Stew's Has
Donated 125,000 Turkeys
2023 marks the 44th year of Stew Leonard's Turkey Brigade! Every November, the Leonard family donates thousands of Thanksgiving turkeys to schools, senior centers, churches, synagogues, and more. Stew's Team Members partner with local first responders to form a human assembly line and place each turkey into the trunks waiting cars and trucks, ready to distribute the birds throughout Connecticut, New York, and New Jersey to help families in need.